This is my first Horny Grazer review. Up until this post the Horny Grazer has been a one man gastronomic mission – guided by his taste-buds in search of the perfect plate. But he's starting to bear the fruits of his labours around the midriff and we're a little worried about his health. So in the interests of my colleague's waxing physique and with my portly body in no immediate danger of expanding beyond its ample (but still devilishly handsome) boundaries, I have agreed to help out. Ultimate altruism? Someone has to.
Besides, when a restaurant of this caliber comes knocking, I'm not one to shy away from a good feed! The original Horny Grazer is a man of fine tastes. I like to think of myself more as an eater for the people (I normally eat for more than one) and a man of the people, well El Burro certainly is a restaurant for the people!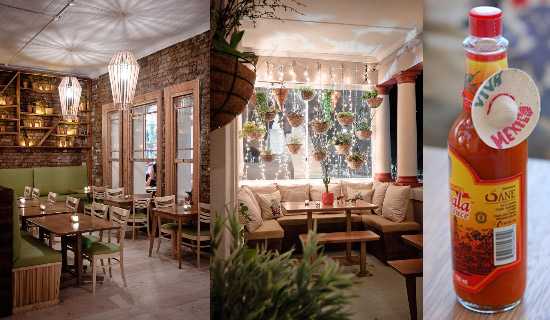 While I won't get into the political relations between Central American nations, the last time I visited this venue it was for Cuban cigars and whiskey at Buena Vista. This time it was margaritas made the proper way and Mexican food of the tasty traditional variety at the recently opened El Burro. From the moment I stepped through the door I knew I was going to enjoy this place. The venue is well positioned in Greenpoint right across the road from the Cape Town Stadium, which as you know from the World Cup, is a sight to behold. Close to the V&A Waterfront and a short distance down the road from one of our favourite Cape Town hotels, The Cape Royale, El Burro is perfectly suited to an evening sundowner before a night on the town in De Waterkant. Especially given that their tequila selection is as varied as most restaurants' wine lists and their margaritas are magic.
They clearly cast a rather drunken spell on me, while my companions had arrived in a dour mood, I was all smiles. Good thing too that the staff are a friendly, smiling bunch, some of their enthusiasm eventually rubbed off and if they didn't arrive with a smile my table mates certainly left with one.
Though none of their smiles could have been as wide as mine, because I'm certain, one hundred percent certain, that I ate (more like engulfed) the tastiest two courses on the menu. I made sure to taste the other dishes at our table and while they were good, in my opinion they didn't match up to my starter of ceviche (R54) and my main of prawn with a mango salsa (which was the special that night). I have mentioned this ceviche to quite a few people since eating at El Burro and I'm often met with the same old question.  What is ceviche? Ceviche is raw fish marinated in citrus juice, spiced with a little chilli and if it's done right it's one of my favourite dishes in the world, although I'm the first to admit, my list of favourites is extensive. At El Burro they make their ceviche with the freshest fish they can find, and as you can imagine with the harbour only a stone's throw away, that's pretty fresh. A good vet might have been able to save the Yellowtail I had.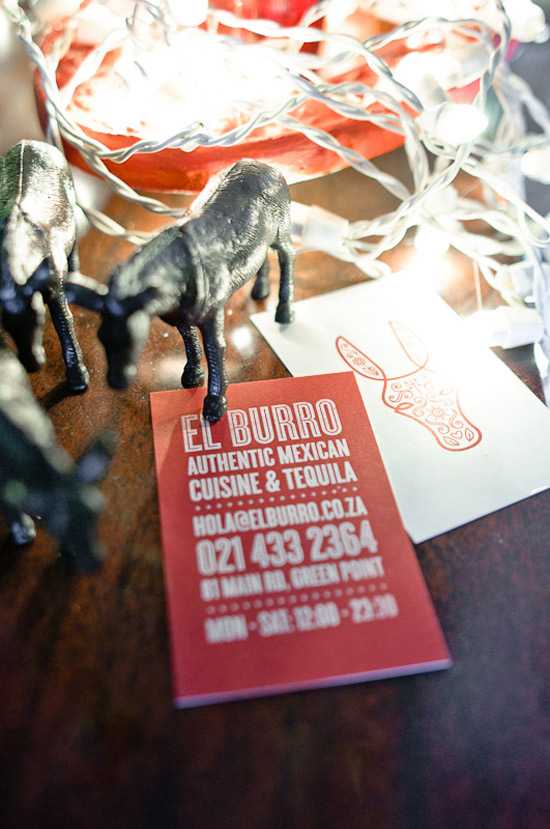 My palate suitably awake and lively and with my second… or was it third margarita in hand, I was getting involved in a rather heated debate about what exactly should make up traditional Mexican nachos. You see at El Burro they don't serve greasy cheese covered nachos as they do in most 'westernized' Mexican restaurants, my table mates were furious, crying foul. I wasn't concerned and they were just being grumpy for the sake of it. Nothing could have concerned me less because by then I had started on my plate of prawns served in a tortilla with a mango salsa. The freshest tastiest dish I could have chosen, after finishing my plate in double time I was feeling elated. It could have been the tequila talking.
The food at El Burro is pretty good – fresh, funky and simple; but I know there are a few small ups and downs on the menu. The roast pork soft taco (R66) dish I tried at our table was a bit dry, but then again it did get served with an assortment of additives, cream cheese, guacamole, re-fried beans – all the ol' favourites made an appearance. I also sampled the Carne Asada, a butterflied sirloin marinated in chilli, lime and coriander (R85), it was delicious and will most likely be the dish I order on my next visit, although the traditional Chicken Mole (R80) may get the nod. The portions are also substantial, so a big guy like me won't go hungry and anyone smaller can take home tomorrow's lunch. Win.
Then there's the great décor and chilled out vibe. Funky Mexican bits and bobs surround you. I kept expecting to hear that song from the film 'Nacho Libre' playing in the background. Instead I got Manu Chao on repeat. If there's one thing I would change about El Burro it's… hell I can live with Manu Chao just bring me more of that ceviche…


El Burro is on Twitter over here and on Facebook over here.
El Burro
81 Main Road
Green Point
Cape Town, Western Cape
021 4332364
Email: hola@elburro.co.za