When is the best time to travel in Africa? This is one of the most frequently asked questions we get at Rhino Africa, which is exactly why we've compiled our very own African Travel Calendar — just for you!
Africa Beckons
Africa is both an exciting and daunting place to visit. There is so much to do and see, but where do you even start? Are you interested in going to Okavango Delta or witness the Great Migration in peak season? When is the best time to go? What about Cape Town, Namibia or even Rwanda, or perhaps the lesser-known destinations of Zambia, Zimbabwe and Madagascar?
We have solved the painstaking issue of finding all the correct information and have provided you with your own African Travel Calendar. Here you will get our experienced insight on where to go during which time of year.
With many destinations having a few "peak" months to travel within, combining the best destinations at the correct time of year allows you to experience several sensational destinations on your African adventure.
We have also included a few alternative travel destinations during high travel months, just to pique your interest and inspire you further.
"Nothing but breathing the air of Africa, and actually walking through it, can communicate the indescribable sensations." – William Burchell (English explorer)
Best Time To Travel in Africa: Your African Travel Calendar
January
Hero Destination: Cape Town, South Africa
Peak Time to Travel: December to April
Africa's most cosmopolitan city, Cape Town, is the meeting point of jet-setting travellers and adventure seekers alike. With so much on offer, there is no wonder it constantly tops the world's "best city" awards each year.
Cape Town is also our home city, so we might be biased, but we wouldn't want to be based anywhere else! The history, culture, wine, penguins, beaches and iconic mountains attract visitors from around the world every year. But most importantly, if you have visited once, you will forever long for your return visit to this beautiful city.
Sub Destination: Tswalu, South Africa
Peak Time to Travel: All Year Round
You need to experience some destinations first-hand to appreciate them fully, and Tswalu is one of those. It is the largest private game reserve in South Africa and offers an incredible safari experience all year round. Whether visiting in summer, autumn or winter — the changing environment gives an entirely different experience each time.
Three things set Tswalu apart from any safari destination in the world. Firstly, the terrain is unique and is constantly changing — and truly spectacular. Secondly, it has a diversity of wildlife found nowhere else on earth. From the curious meerkat to aardvark, bat-eared fox and pangolin, the variety of wildlife is a huge reason to visit Tswalu. Lastly, this is the only safari lodge with a Michelin-starred chef, Jan Hendrik van der Westhuizen, producing fine-dining cuisine deep in the heart of the African bush.
February
Hero Destination: Rwanda, East Africa
Peak Time to Travel: December to February | June to September
Once in your lifetime, you should travel to see the gorillas! And there is no better place to view them than the Volcanoes National Park in Rwanda. Home to over half of the world's mountain gorillas, this is possibly the best destination to get up close with these majestic creatures.
Gorilla Trekking is excellent from December to February and again from June to September, as annual rains between these months make gorilla trekking significantly more challenging.
Peak Time to Travel: October to February
Where desert and ocean meet, the unique Skeleton Coast is a must-see destination in Namibia. Littered with shipwrecks, it has an otherworldly feel to it, with desert-adapted wildlife to see and excellent fishing opportunities.
Plan your visit around October to February, when there is little rain, and the sky is clear, making it excellent for photography!
March
Hero Destination: Victoria Falls, Zimbabwe/Zambia
Peak Time to Travel: All Year Round (Low Water: August to December | High Water: February to June)
As the largest cascading body of water in the world, Victoria Falls is a breathtaking sight. Locally, it is known as "The Smoke That Thunders" because of the rising plume of mist that the falls create.
As the Zambezi River, which feeds the falls, does fluctuate throughout the year it means that there is a seasonality to the falls themselves. You can experience low water levels from August through to December, and although the falls are at their lowest, it does mean you can experience Devil's Pool, and white-water rafting is also at its best during this time.
High water levels typically occur from February through to June, with incredible water volumes seen during this time. Victoria Falls also sits between two countries, Zimbabwe and Zambia. While you can view more of the falls from the Zimbabwe side, especially during low water levels, the Zambian side is equally impressive.
Sub Destination: Pemba Island, Zanzibar
Peak Time to Travel: December to March | July to September
If you want to experience Zanzibar's magnificence, but without the crowds, Pemba is perfect for you. More of a hidden gem than its neighbour, the tourist-magnet Stone Town, Pemba offers a very authentic, serene coastal environment. With long stretches of quiet coastline and the Ngezi forest, you will find all the peace in the world.
The best time to go is from December to March and again from July to September.
April
Hero Destination: Sossusvlei, Namibia
Peak Time to Travel: April to September
Never-ending desert dunes await you in Sossusvlei. One of Namibia's biggest attractions, it is located in Namib-Naukluft Park. Tie those laces and make your way up the biggest dune, aptly named Big Daddy, if you're feeling adventurous. Deadvlei is an eerie salt pan with 800-year-old blackened camelthorn trees, the only sign of (previous) life.
The best time to visit Sossusvlei is from May to October, with the peak time being from April to September. This is because the sun is less potent and the heat less extreme during this dry season.
May
Hero Destination: Nosy Be, Madagascar
Peak Time to Travel: May to October
Is a tropical island holiday on the cards for you? Then you should seriously consider the spectacular Nosy Be Archipelago in Madagascar. If you know the cartoon, then you know that Madagascar is home to the amusing lemur. However, there are many more animals to see, especially at the Lobéké Nature Reserve. After you've scoured the land, explore the underwater magnificence by snorkelling or diving to see the coral reefs, fish and sea turtles.
Plan your trip around May to October for the best weather.
June
Peak Time to Travel: All Year Round (Peak Season: June to September)
The Big 5 safari mecca of Southern Africa, Kruger National Park, tops practically every African bucket list. The big game is, well, big here — and the very elusive leopard makes its appearance around almost every corner. The area also boasts many private concessions, where you will find luxury and exclusive experiences such as night safaris, walking safaris, and following the animals off-road — all things that are not allowed in the very busy public parks.
Although Kruger National Park is great all year round, the peak season is from June to September. During the dry winter months, game viewing is excellent. However, the wet summer is when newborn animals make their (very cute) debuts.
Peak Time to Travel: June to September
This Reserve might not be as well-known as its neighbours, but it still packs quite the punch. If you want a quieter safari experience, this is for you. Declared a UNESCO World Heritage Site, you can enjoy spectacular wildlife sightings and views.
The best time to visit is from June to September, when the watering holes are filled to the brim, luring animals to congregate. The temperature is also less scorching than in summer.
July
Peak Time to Travel: July to September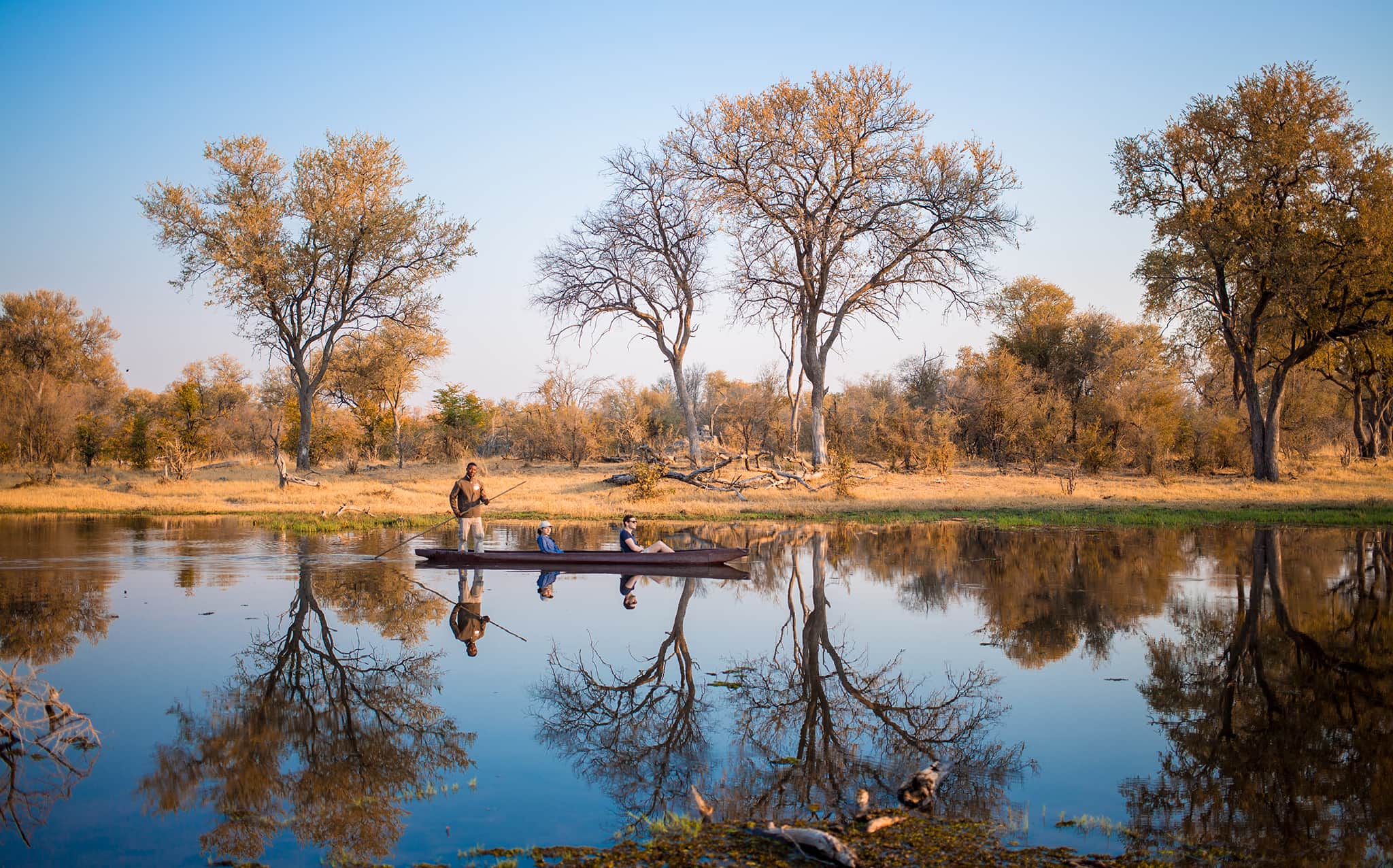 Botswana is a must on your to-do list when you go to Africa! This wildlife-packed country is so unspoilt that it is almost baffling that it can still exist today. The Okavango Delta is one of the country's biggest attractions — if not the biggest! Mysterious in nature, it is the largest inland delta globally and floods during the dry winter months, acting as the lifeblood of the area and animals. From game drives, boat rides, mokoro (a dug-out canoe) and walking safaris, you will be in safari heaven.
The ideal time to visit is from July to September, during the dry winter season when the delta is flooded and the temperature is milder.
Peak Time to Travel: June to October
Located roughly four hours from Kenya's capital, Nairobi, the Amboseli National Park is a legend in its own right. It's best known for its elephant sporting massive tusks and also offers an excellent vantage point of Mount Kilimanjaro, the highest mountain peak in all of Africa. 
The dry season from June to October is the best time to visit as there is lower rainfall and the vegetation is sparse, making it easier to catch sight of the wildlife.
August
Peak Time to Travel: December to January | July to September
If you've heard of Tanzania, you've definitely heard of the Serengeti National Park. Host to part of the Great Migration, one of nature's greatest shows and one of the Seven Natural Wonders of Africa, it's a sight to behold. This large (1.5 million hectares) has a thriving lion population as well as the Big 5. And with incredibly varied landscapes, you'll want to explore every nook and cranny!
The best time to visit the Serengeti is from December to January and again from July to September, when the Great Migration moves through the area.
Peak Time to Travel: July to September
This massive National Park is a whopping 22,400km2 in size, making it Zambia's largest — as well as oldest — national park. It's a very popular destination not only because it is packed with wildlife and so big, but also because it is located very conveniently a mere two-hour drive from Livingstone. The park is home to a large variety of wildlife and bird species, making it a safari paradise.
Kafue's climate is very temperate year-round, but the best time to visit to see wildlife is from July to October during the dry season.
Peak Time to Travel: July to September
'Mana' means 'four' in the local Zimbabwe Shona language and references the four pools that the Mana National Park is famous for. The park is very prominent globally and declared a UNESCO World Heritage Site. What it's best known for, however, are their elephant reaching with their trunks to pluck foliage from trees — sometimes even getting on their hind legs to reach it! They mostly do this in the dry season, when the other vegetation is slim pickings. The animals in Mana Pools are very accustomed to humans, making it a very popular spot for photographers and walking safari enthusiasts.
The best time to visit Mana Pools is during the dry winter months when the bush is sparse, making it easier to spot the animals.
September
Peak Time to Travel: July to October
If you haven't yet heard of the Maasai Mara National Reserve, you must've been living in a cave. This world-renowned Big 5 wildlife paradise is host to one of the most spectacular shows on earth (and one of the Seven Natural Wonders of Africa), the Great Migration. This annual event is when millions of wildebeest, followed by gazelle and zebra, make their way across the plains. And what a spectacular journey this is to witness! The Reserve also has thriving wildlife populations, particularly big cats like the lion, cheetah, and leopard.
The peak time to visit Maasai Mara is from July to October, as this is when the wildebeest have to cross the river while trying to escape crocodile jaws! After that, they make their way to the Mara Plains, offering excellent game viewing.
Peak Time to Travel: July to September
The oldest and largest national park in Zimbabwe, the established Hwange National Park is a popular tourist safari destination. However, it is best known for its elephant herd, one of the biggest on the continent. So, if you're a fan of the gentle giants, Hwange is the place to go. The endangered African wild dog also thrives here, with a pack considered one of the biggest in Africa. If birding is more your thing, you will be ecstatic to find over 400 bird species in this park.
The best time to visit Hwange is in the winter season, with the peak season being from July to September. During this time, the watering holes are replenished by the rain, attracting wildlife. The bush is also sparser, allowing for excellent game viewing.
Peak Time to Travel: July to September
A UNESCO World Heritage Site, the Ngorongoro Crater is the only intact volcanic caldera in the world. What makes this ancient basin even more extraordinary is that it is flourishing with a diversity of fauna and flora, in turn luring multiple wildlife species, including the Big 5. Some speculate that, before it erupted, it was likely even higher than the famous Mount Kilimanjaro, the highest mountain in Africa! Today, it is an incredible safari destination.
The best time to visit is from June to October, with July to September being the peak times.
October
Peak Time to Travel: September to October
Known as the 'Land of the Gentle Giants', Chobe National Park in Botswana is world-famous for its seemingly endless herds of elephants. It's also rich in fauna and flora, with floodplains luring all kinds of wildlife to quench their thirst.
Botswana's third-largest and very first national park, Chobe National Park, is a must on anyone's African itinerary — especially for pro or amateur wildlife photographers! The best time to visit is from July to November, with the peak time being from September to October.
Peak Time to Travel: July to October
Downstream from the mighty Victoria Falls, the Lower Zambezi National Park in Zambia is a wildlife conservation haven. Although it might not be Zambia's biggest park, it is an often underrated destination where you can access unspoilt landscapes roaming with wildlife to see. If you're looking for a quieter, more exclusive safari experience and enjoy walking or canoe safaris, then this is for you.
The best times to visit Lower Zambezi National Park are from May to October, with the peak times being from July to October.
Peak Time to Travel: July to October
This incredible wildlife sanctuary is known as one of the greatest globally, and it is very apparent why. This 9,050km² national park is densely packed with wildlife, including over 400 bird species, offering the ultimate safari experience. However, what it's most commonly known for is 'the birthplace of the walking safari'.
Your best experience at South Luangwa will be during the dry season, after the rainy season has left watering holes all around, so plan your visit anytime from July to October.
November
Hero Destination: Seychelles, Indian Ocean Islands
Peak Time to Travel: April, May, October and November
Fancy a luxury escape on a tropical island? Seychelles, found on the East Coast in the warm Indian Ocean waters, is the perfect getaway. Picture azure, warm waves lapping on silky sand and set against palm trees. The uninterrupted sunsets are also certainly something to write home about!
Although Seychelles is terrific year-round, the most popular times to visit are from April to May and again from October to November. Whether you are a loved-up couple searching for a romantic holiday or a group or family travelling together, Seychelles offers natural beauty, relaxation, activities, and barefoot luxury abound.
Sub Destination: Franschhoek, South Africa
Peak Time to Travel: November, December, January, February, March and April
Often referred to as South Africa's 'Gourmet Food Capital', the Franschhoek wine valley is filled with delights. With a wide range of award-winning restaurants and wineries, you'll be salivating for more around every corner. Did we mention the views? Picture sun-soaked carpets of vineyards set against dramatic mountain ranges — straight out of a fairytale!
Whether you're a newbie or wine connoisseur, the wine farms in this area will further convert you to love the 'nectar of the gods'. If you prefer a glass of bubbles, the local Méthode Cap Classique way of making bubbly will be of great interest to you, with endless opportunities to sample a glass or three. Want something less 'vanilla'? The wine tastings are often paired with interesting sweet and savoury bites, elevating the experience to another level.
December
Peak Time to Travel: December to February | June to August
Located in Uganda, the Bwindi Impenetrable Forest National Park is home to the endangered mountain gorilla and the chimpanzee, monkey, elephant and a wide range of bird species.
The park is also a UNESCO World Heritage Site thanks to its incredible biodiversity and the fact that it is a sanctuary for the critically endangered mountain gorilla. The best time to visit is from December to February, and again from June to August. This is because of the lower rainfall, making the terrain less slippery.
Make This Your Year to Travel to Africa
Have you already made a list of destinations you want to visit? Or are you overwhelmed by the incredible choices? Contact our Travel Experts for an obligation-free quote, and they can give you their expert advice based on your individual needs and wants.
See you in Africa!
X
Plan your future African Safari today
Let's explore Africa
Opens our enquiry form
Based on 3000+ reviews