Ready for a truly wild adventure?
We know you are! The answer, dear Explorer, is mobile tented safaris…
Mobile Camps allow you to experience real Africa. Imagine camping in the bush among wild animals in their natural environment. Instead of staying at permanent lodges, the mobile tented safari allows you to move around to experience the best game viewing at different times of the year. Get up close and personal with the African wilderness!
The mobile tented safari is a great option if the Great Migration is what you're after. Depending on the seasons, the wildlife on show changes – the Great Wildebeest and Zebra Migration is probably the best example, but there are many more. Africa has a whole selection of the finest mobile camps. Each offers supreme luxury in the heart of the bush – not the kind of camping most people imagine. It's 'glamping' – camping in a glamorous way. Relax in your private tent, wine and dine on gourmet cuisine under the stars and fall asleep to the sounds of the African night.
Here's how…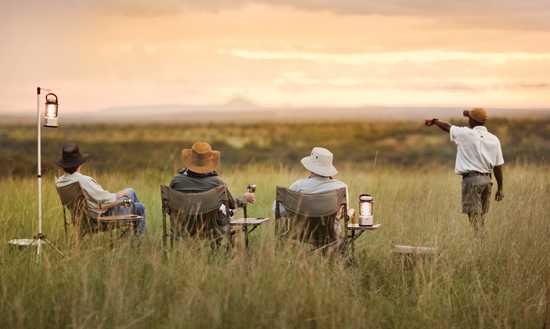 What To Do On a Mobile Tented Safari
Follow the Great Migration across the Serengeti
Savour a walking safari in South Luangwa Park
Learn how to track wild animals in the wilderness
See plains game and predators in the heart of bush
Sleep under the stars in a luxury tented camp
Here is a list of our favourite mobile tented safaris in Africa.
---
Explore Gorongosa
Location: Explore Gorongosa is an exclusive camp in the Gorongosa National Park, near Beira in central Mozambique. It can be reached by charter flight from Vilanculos or Beira, or by road from Beira.
About: It is the only operator offering private safaris in the untouched wilderness that is Gorongosa. It is essentially a series of migratory camps offering guests either walking or river-based safaris. During Dry Season (1 May – 15 Dec), guests will walk through the bush with an expert guide before setting up camp. In the Wet Season (15 Feb – 30 April), drift down rivers and waterways on canoes, taking in exceptional game and bird viewing. Enjoy game drives in an open Land Cruiser, with significant populations of plains game, predators (especially lion), elephant, hippos, crocodiles and birdlife. This is Africa at its most untouched.
Accommodation: 4 canvas tents cater for a max of 8 guests. Each tent is the epitome of luxury with twin singles or a double bed, mosquito nets, a clothes rack, suitcase stand, vanity table and stool and side tables – not exactly hard camping. Each tent has an en-suite bathroom with open-air hot bucket shower and toilet and there is a private verandah for you to kick back on during the day.
---
Chobe Under Canvas
Location: The camp is situated on the banks of the Chobe River in the world-famous Chobe National Park in Botswana.
About: Chobe Under Canvas is a migratory camp that occupies different positions on the Chobe River, a haven for wildlife in the Chobe National Park. This camp moves every five or six days, following the animals and bringing you the best game viewing possible! The tents are usually set in an evergreen forest, providing shade and solitude, while wild beasts wander around at will. At the end of a day filled with game drives and bush walks, wine and dine under the stars and enjoy a drink around a roaring log fire.
Accommodation: There are six en-suite safari tents catering for a max of 12 guests. This may be the bush but the tents are luxurious with king-size beds, down duvets, fresh linen, bedside lamps and all the creature comforts you would expect at a five-star lodge! There are en-suite bathrooms and al fresco hot bucket showers – so you need not worry about the bush toilets. And if you need anything at all, a private butler will be at hand 24 hours a day.
---
Serengeti Migration Camp
Location: Serengeti Migration Camp is in the far north of the Serengeti National Park in the far north of Tanzania, bordering on Kenya's Masai Mara.
About: Tucked away in the vast plains, the Serengeti Migration Camp is in a veritable pit-stop for the millions of wildebeest and zebra that traipse past in June/July and October/November and is the starting point of the Great Migration. To witness one of the greatest natural spectacles on earth is a privilege. To witness that spectacle in luxury and isolation makes the privileged look positively serf-like. The lodge is in a river valley overlooking the 'siringet'. Game-viewing is high on the agenda here and the region is rife with lion and leopard and East Africa's plains game.
Accommodation: There are 20 large, elevated canvas pavilions, with hard-wood floors, rain showers and luxurious furnishings. This is a perfect example of old world style, mixed with contemporary luxury. Each room has its own private deck with a 360º view of the Serengeti. Facilities include a split level lounge, cigar bar, a sun deck and swimming pool all perched among the rocky outcrops overlooking the vast and rugged landscapes.
---
Singita Explore
Location: Singita Explore is situated inside a massive private game reserve with an unfenced border along the northern boundary of the famous Serengeti National Park. The private reserve offers exclusive game viewing and the Grumeti River is the scene of amazing Great Migration action as thousands of wildebeest and zebra pour across the croc-infested water to face lions on the other side.
About: Considered Africa's most exclusive mobile-tented safari experience, it is situated in over 340,000 acres of private use concession in the Serengeti National Park. From here explore remote locations in the Singita Grumeti Reserves. This back-to-basics camp ensures you get up close and personal with the wildlife and untouched landscapes. Visit it alone or include it in an itinerary that visits the other camps in the Singita Grumeti Reserves – such as Sasakwa, Faru Faru and Sabora Tented Camp.
Meal times are interactive with chefs frying eggs right in front of you. Food is prepared in true camp style – over coals. Expect potjies, barbecues, pot breads and full cooked breakfasts; high teas, banana walnut loaves, warm apple crumble with vanilla custard; full dinner feasts of pork chops, lamb mishkaki, potato bake, butternut chakalaka and salad. You'll get your own private game vehicle and guide and a tailor-made itinerary of activities at the camp, such as mountain biking, archery and walking.
Accommodation: This mobile camp is designed to keep environmental impact at a minimum, treading lightly on the land and sold on an exclusive use basis only, year round. A maximum of 12 guests can stay at the camp at one time, ensuring the utmost in personal attention and privacy.  It comprises six tents and two mess tents and is placed in remote parts of the reserve and is hosted by a private guide, camp host, chef and camp staff.
---
Savute Under Canvas
Location: Savute Under Canvas is situated in the wild Savute Reserve, an untouched corner of the teeming Chobe National Park of Botswana.
About: Savute Under Canvas comprises a series of camps that move every 5 or 6 days, ensuring a unique setting and wildlife experience every week. The camps are usually set up beside waterholes, providing great armchair game viewing as animals meet to quench their thirst. There is a main area and open-air boma so you can wine and dine under the stars and gather round a roaring fire in the evening.
Accommodation: There are 6 en-suite safari tents, but this ain't roll mats and hard pillows. Think king-size beds, down duvets, clean linen and all the creature comforts you could imagine! Each tent has an en-suite bathroom and water will be boiled for your early morning bucket shower. Relax on your shaded verandah and appreciate the sights and sounds of the African bush. If you need anything else, a private butler will be available at any time of day or night.
Other great mobile tented safari camps include:
---
At Rhino Africa we tailor-make all our tours to meet your needs. So whether you'd like to combine Cape Town with a walking safari in South Luangwa or to follow the Great Migration at Singita Explore, we'll put together the holiday of your dreams. Contact us now to start planning your mobile tented safari experience!