One of the main reasons people love to travel to Africa is to explore, uncover and discover the secrets of this diverse continent. Africa is a melting pot of language, culture, cuisine, wildlife and landscapes – there is so much to see it could easily take a lifetime to explore it all.
Botswana – Discovering the Unknown
From my experience, the biggest drawcard for travellers seeking out the untouched wilderness of Botswana is the possibility of endless discovery. Botswana is one of the most remote and untouched places on earth and, having adopted a low-volume tourism model to protect their natural resources, it remains a truly pristine space. It is no secret that Botswana sits at the top-end of the safari cost spectrum, but for very good reason. It is quite simply the most real and authentic safari destination in Africa.
The wildlife, terrain, people and activities have proven to be the winning formula for this unique country. For me, having visited Botswana a number of times, it is the small nuanced discoveries on each trip which sets this safari destination apart and why I am so passionate about sending my clients there. I hope after reading some of these special moments, you too are inspired to go and immerse yourself in the wonders of Botswana.
First, a Proper Introduction
My family holidays were spent exploring two very unique countries, South Africa and Italy. The former being my father's home country and the later being my mother's. I quickly learnt how each destination offers something completely different: be it the culture, cuisine, history, language, the people or the scenic adventures exploring the most beautiful parts of these countries.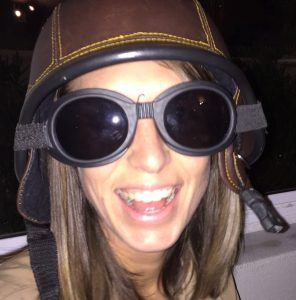 As with most children, flying was the absolute highlight for me. Climbing onto the plane and knowing something new was waiting for me on the other side was more than my little head and heart could handle and thus my youthful dreams naturally were to become an air hostess. However, once a little wiser, I decided to immerse myself rather within the Hospitality and Tourism Industry, gallivanting between the US, UK, and Europe. After years of being away I realised Africa was my real home and I needed to reconnect with this amazing continent. This brought me to Cape Town, where I live, and Rhino Africa, through which I get to explore this amazing continent as well as create bespoke adventures for my clients.
Botswana Uncovered
In order to experience all the magic of Botswana, you need one small ingredient: time. We all know that this elusive commodity is always in short supply so I would recommend having a travel expert on hand to guide you through what is available and at what time of the year. Botswana is seasonal, so you need to know when is the best place and time for land-based 4×4 safaris, motorised boat safaris, tranquil walking safaris and even silently drifting through the Okavango Delta channels in a mokoro canoe.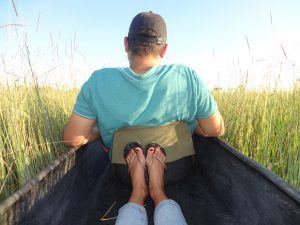 From the flooded plains of the Okavango Delta, to the varied terrain of Moremi, Khwai and Savuti, you really do want to be able to experience all the raw and unfiltered nature of Botswana. And, if you add in Chobe and the Makgadikgadi Pans there is no African safari destination which is in the same league as Botswana.
Botswana At First Glance
When I first touched down at Maun Airport, the gateway to the Okavango Delta, I remember thinking, "Wow this is real Africa". And I mean that in the simplest and purest way. The warmth not only of the place but from the people is tangible. Wherever you go, the smiles, love and care shown is something which will stay with me forever.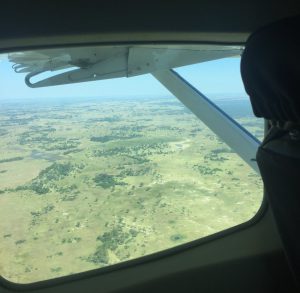 There are no over-the-top bells and whistles when it comes to Botswana, there is simply no need. The showcase is always what can be found around you. Your only job is to lap up the experience as much as possible in the time you are there. One of the first "special experiences" will be your first lodge hop. This is a travel industry term referring to the small 12-seater aircraft used to fly guests from Maun, the main airport hub outside the Okavango Delta, to the airstrip nearest to your lodge. This is the easiest and quickest way to get to your chosen destination, as traversing the Delta by land is often very challenging and sometimes not even possible in certain months. It is also an incredible way to witness the sprawling mass of the Okavango Delta from the sky.
I will never forget my first hop. After a somewhat wobbly take-off, my excitement levels were off the charts. Viewing the lumpy grey masses of elephants from above gently wading through the water was surreal. Then gently landing onto a dirt runway to see the next guests waiting beneath a shaded tree to board the flight you have just disembarked from was surreal – only in Africa is the boarding lounge under a tree.
The Unexpected Surprises
Botswana is all about what lies around the next bend. On one of my trips, we set out one glorious afternoon for a motorised boat safari. While it is motorised, the boat is quiet and the waterways are eerily calm. Coming around a tight bend we very nearly bump right into an elephant and her calf busy swimming in the middle of the stream. My jaw dropped as I notice they are not just walking in the water, they are very clearly swimming. To top it all off they are swimming to the rhythm of a dolphin breaching and diving in the ocean. I am utterly stunned at the grace and elegance of these enormous animals and joyful emotion (also known as tears) just washes over me.
The following morning I then went wading down the Delta channels in a mokoro, which is a dugout canoe manned by a guide and rod steering the way. This gives you time to sit back and look out for the small beauties on offer. And you have to really look out for them! Painted reed frogs are almost invisible to the untrained eye. They are only the size of your thumbnail and a huge achievement when you spot your first one. After a few hours I would say my abilities drastically improved, sometimes made easier by the frogs ending up in my lap as we brushed them off their reeds as we drifted past. These quiet moments were my absolute favourite time in the Delta. Getting lost amongst the reeds I was forced to slow down, engage and take it all in which is something I think we all struggle to do in our day to day lives.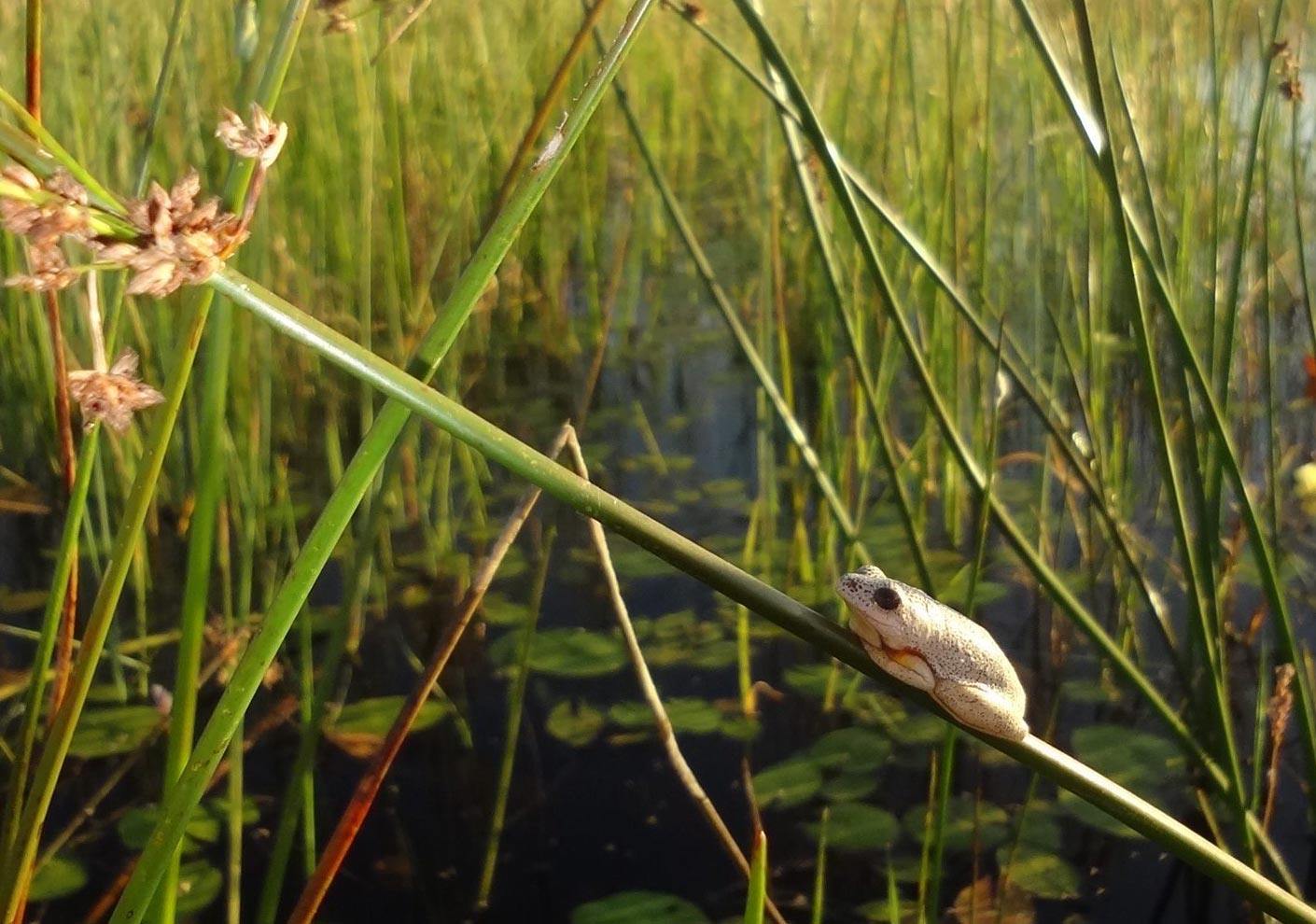 On my final evening in the Delta before having to head back to the real world I was woken in the wee hours of the morning to heavy thumping, followed by a loud crash and then a long rumble. Even worse was that the noise kept coming closer to my tent and I was surrounded by nothing but wilderness and in absolute darkness. After a mild panic attack (but in reality a huge one) I did the only logical thing I could think of. I crawled under my bed and lay in the foetal position. After what seemed like an eternity of me praying for someone to come help I heard the telltale sounds of the rangers taking control. With my heroes around, I braved coming out of my hiding place and courageously peeked out of my tent. With my heart thumping like it was trying to escape the scene, there, only a few meters away from me was the infamous resident elephant, Sylvester. Apparently he loves to visit the island lodge for the delightfully sweet Marula fruit on offer next to my tent. Once he had disappeared and the calm returned, I didn't know whether to laugh or cry from the mixed emotions. This is truly the most authentic side of Africa!
Reboot, Recharge and Reconnect
During Covid we have been placed under an immense amount of pressure and forced to change so much of our daily functioning. If you are anything like me, you have often thought "Will this ever be over and if it does, what will it actually look on the other side?"
My answer to that is yes, it will end and yes, it will probably also look quite different too. We are already reevaluating what is important to us as well as appreciating the simplicities in life. The desire to travel is greater than ever and the desire to be away from all the madness most likely resonates with many of us. Now is the time to reconnect with yourself, and your loved ones and also to reboot and recharge in an environment offering the natural wonder that is uniquely different to where you are from.
Africa delivers on this! Here you are able to spend time with family and friends in unfamiliar locations, exploring open, expansive spaces free of crowds and full of adventure. Places perfectly designed for diverse and meaningful conversation with the backing of natural acoustics for enhanced meaning. With people being uncertain about travel, the need to feel a sense of isolation is what is on offer in Botswana, Tanzania, Rwanda, Kruger and more. Small, intimate lodges in Africa's most secluded places is what the ideal post Covid travel will include.
Botswana should be your next Holiday Destination
We are currently surrounded by so much noise that places like Botswana stand out like a beacon of peace and quiet. It whispers gently to your soul, reminding you to reconnect, be device free, remain still, listen and breathe it all in. My stories remind me that I too need to go back to Botswana, but I hope this has inspired you to seek your own narrative and find your own special story in Africa soon.