Rugby, much like Africa, is in my blood. My family and I have been more than avid fans of the beloved game. Just as the lion moves with stealth, strategy and snaring steps when on the hunt, rugby teams also play with brute power and indomitable force in their pursuit of glory. In fact, and thanks to our Irish ancestry, my brother, Rob Herring, has moved on and earned his spot in the Irish national team. This means that the British & Irish Lions Rugby Tour of South Africa from 3 July – 7 August 2021 is of personal interest to me. It may be a little under a year away still, but my level of excitement and anticipation is already way off the charts.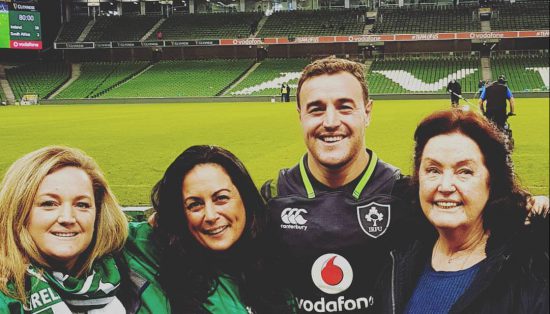 Hi, I'm Tara – one of Rhino Africa's most passionate Travel Experts. I have over 17 years of experience in the art of luxury travel and curated experiences. With a passion for African travel and a personal connection to international rugby, this is my take on the best destinations to explore while visiting Southern Africa during the British & Irish Lions Tour in 2021.
Johannesburg – the City of Gold
Your initial stalking steps of the tour, which coincides with the first test between the British Lions and Springboks (the name of the South African Rugby team) will be in the City of Gold, Johannesburg. This is South Africa's business capital and has earned its reputation for being a "work-hard-play-hard" concrete jungle with a rich and tumultuous history.
The swanky Hyde Park Boutique Hotel will be your home for the next few days and with its remote charm and exceptional service, it is the perfect start to your trip. You have a couple of days to delight in a quick shopping spree at Sandton City, which boasts a range of high-end stores, or visit the evolving inner city lights of the Maboneng Precinct with its vibrant energy and cosmopolitan flair. For a more cultural experience, take in the Museum Africa which showcases all aspects of African literature and cultural heritage or spend some time at the Apartheid Museum for a deep understanding of South Africa's divisive past. 
Victoria Falls – "The Smoke that Thunders"
The next leg of your African adventure will see you flitting off to the mighty Victoria Falls. Aptly called "Musi-oa-Tunya – The Smoke that Thunders", this cascading sheet of water is found roughly halfway down the Zambezi River and straddles both Zimbabwe and Zambia.
Victoria Falls is over two kilometres long and drops 108 meters into the gorge below. While this alone is a reason to visit, there's no shortage of additional exhilarating experiences to keep you busy. From bungee jumping to white-water-rafting, zip-lining to helicopter flights – there are amazing ways to experience the natural beauty of this UNESCO World Heritage Site. As a contrast to your energy filled days, your evenings will be soaking up the tranquil essence of Africa at Victoria Falls Safari Club. With excellent hospitality and an on-site waterhole, you can relax in style while watching Africa's incredible wildlife right from the comfort of the lodge.   
Cape Winelands – Wine & Dine in the world's most beautiful countryside
The second rugby test takes place in Cape Town so our attention now shifts from the adventures further north to the southern part of the African continent. Before the second test kicks off, we have a few nights to indulge in the Cape Winelands – and indulge we will. This is South Africa's food and wine capital and is surrounded by incredible mountain ranges, superb vineyards and elegant Cape Dutch homesteads. This is the kind of countryside that does not skimp on luxury or taste, so naturally your stay at Leeu House in Franschhoek is the perfect place from which to experience the splendour of the Winelands.
A short trip later (roughly 45minutes) you'll find yourself in Cape Town – a city that lends itself to being a melting pot of culture, food and iconic landmarks. Here you will be based at the popular Westin Hotel which is located in the heart of the city, so is very convenient for the rugby test. There is never a shortage of things to do in Cape Town, so whether you are exploring Table Mountain, discovering Cape Point or being bowled over at Kirstenbosch Botanical Gardens, there is something for everyone to enjoy here.  
Madikwe – the untamed and untainted wilderness
Now for your Big 5 safari experience! The second last hunting ground of your Lions Rugby Tour will be in the richly diverse and malaria-free Madikwe Game Reserve. Your twice daily game drives here will reveal a variety of diverse and unique wildlife. All the big hitters are here: including wild dog and cheetah. However, this is also home to some of the more lesser know, and quite rare, animals such as the mountain reedbuck, oryx, sable and eland. Set in amongst the rocky dolomite ridges of the Madikwe Game Reserve, The Royal Madikwe is the ideal retreat for this stage of the holiday. Here is your chance to rejuvenate your mind, exhale the test match tension and inhale the magnificent beauty surrounding you. 
Travellers choose to stay at The Royal Madikwe because of the unforgettable experience it offers. The seamless luxury combined with their sincere and passionate team make a stay here one you will never forget. Of course a safari experience is always better when it includes incredible wildlife encounters and you will receive this here in abundance. And with a private waterhole right in front of the lodge, you might decide not to go out and find your favourite animal, but rather wait patiently for them to come find you instead. 
After your safari experience, you will once again return back to Johannesburg, and the Hyde Park Boutique Hotel, to experience the final rugby test match – which is sure to be exhilarating. Use this last chance to do some gift shopping for the family, or simply relax and soak up the energy of this bustling city.
Experience live Rugby & Southern Africa
What better way to spend a 16 days tour with the Lions Rugby team in Southern Africa than with this incredibly diverse itinerary? I have been extremely privileged to have travelled extensively through South Africa, Namibia, Zimbabwe, Botswana, Mozambique, Zambia and Tanzania and this particular journey is right up there, showcasing some of the most amazing places Southern Africa has to offer.
At Rhino Africa, we specialise in tailor-made: so each of our itineraries are hand crafted to best meet our clients needs and interests. While I have outlined some amazing places to visit, there are many other options and all our Rhino Travel Experts are excited to make your dream African adventure perfect for you. During this worldwide lockdown, we've all dreamed of being able to truly explore the world and in particular, Africa. As the experts in African travel, Rhino Africa is in the ideal position to make that happen for you. Get in touch with us to book your Lions Rugby Tour Itinerary, and we can also assist in purchasing your game tickets for you too. It's time to watch the Lions in Africa. 
X
Plan your future African Safari today
Let's explore Africa
Opens our enquiry form
Based on 3000+ reviews