Africa is open for international travel and what better way to throw off those lockdown cobwebs than to head into the wide open spaces only Africa can offer. December means warm summer weather in the Southern Hemisphere, which also coincides with some of the best safari, beach and holiday time. With travel now a reality, there are some incredible places to visit and what's even better, there is availability right now & at never before seen prices too. Most of Africa's top destinations book out over a year in advance, such is the huge demand and limited availability of African travel. So if your travel bug is itching – here are our top 7 African destinations to visit in December for that perfect last-minute holiday.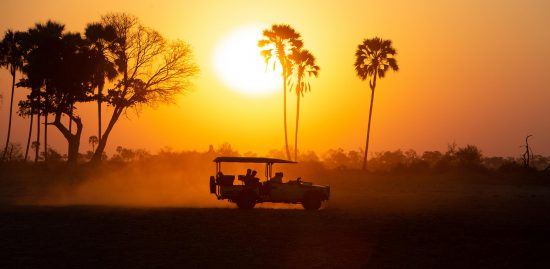 1. Sabi Sand, Kruger National Park – South Africa
The pinnacle of South Africa's safari offering, this private reserve shares an unfenced border with the Kruger National Park and offers the best wildlife experience in Southern Africa. The Sabi Sand Private Game Reserve is famed for their intimate leopard sightings, if these elusive spotted creatures are on your sightings list, there is nowhere else better on earth to witness them in all their glory.
Where should you stay?
These are all top award-winning lodges, and you would be hard pressed to find better anywhere. Our picks (in no particular order): Londolozi Private Game Reserve, Singita, Silvan Safari
2. Volcanoes National Park, Rwanda
Gorilla Trekking is a once in a lifetime opportunity and Volcanoes National Park is the "birthplace" of gorilla trekking. Rwanda is home to over half of the world's mountain gorillas and possibly the best place to view these incredible animals.
Why travel to Rwanda now?
Planning a trip to Rwanda would normally have to be done between eight & twelve months in advance – due to the high demand and the low volume of trekking permits which are issued. Take advantage of this unique opportunity and book your gorilla trekking now!
3. Lower Zambezi National Park, Zambia
A safari destination which is not well known but which consistently delivers incredible experiences. Untamed, wild and completely void of any "tourist" activity – this is one of the best kept secret isolation destinations on earth.
Where should you go?
Far away from the crowds, a trip to the Lower Zambezi National Park offers a wide range of experiences which most safari destinations can't all do. Water safari's, hot-air balloon and walking safaris and all possible in this piece of African paradise.
4. Cape Winelands, South Africa
Warm summer days spent under ancient oak trees, surrounded by vineyards and mountains and with a glass of award winning wine – why would anyone not want to be here in December. The Cape Winelands are a 45min drive out of Cape Town and offer old world, country charm with elegance and sophistication at every turn. If you are a foodie at heart, this is home to South Africa's most award winning gastronomic institutions.
Where should you stay?
The options are endless, but here are a few of our favourites (in no particular order): Delaire Graff, La Residence, Mont Rochelle.
5. Seychelles
Tropical island holidays at its best! With over a hundred islands to choose from, you can hand pick your own private island for your December holiday. If isolation and getting away from the crowds is a priority for you, the Seychelles in December is the ideal destination. Summer sun, endless white beaches and not a person anywhere to be seen – sounds perfect.
Why go here?
Despite being in the middle of nowhere (literally), it is very easy to connect and fly into the Seychelles. This is also one of the world's best diving destinations and offers incredible visibility as well as a vast variety of marine wildlife.
6. Tarangire National Park, Tanzania
Not as well known as its bigger counterpart, the Serengeti National Park, the Tarangire National Park offers a quieter, more intimate safari experience away from the bustling crowds. Nicknamed the land of the giants, Tarangire is famous for its impressive elephant herds as well as huge baobab trees. With an astonishing 500 bird species on offer, this is also the ultimate birders wonderland.
Where should you stay?
These are some of our favourites. All of them are great options for an incredible East African Safari holiday: Little Chem Chem, Sanctuary Swala Camp, Oliver's Camp.
7. Tswalu Kalahari, South Africa
Tucked away in the northern reaches of South Africa, Tswalu Kalahari offers a safari experience unmatched anywhere in the world. With clear blue skies, gold and crimson sunsets, coarse green grass and intense, rubicund dunes – a December trip here is what dreams are made of.
Why you should go here?
All bookings for December will receive their own private guide and safari vehicle. If you are dreaming of an exclusive & intimate safari experience, nothing comes close to Tswalu. The diversity of wildlife on offer at this private reserve is something you won't find at the well-known Kruger National Park. Here you can find the black-maned Kalahari lions, meerkats, Cape foxes and pangolin as well as all the other traditional safari animals.
December Travel at your fingertips
There has never been a better time to travel to Africa and December offers the perfect time to explore some of the world's most remote and beautiful places. Our travel experts are on hand to make your safari dreams a reality, contact them today to start planning.
X
Plan your future African Safari today
Let's explore Africa
Opens our enquiry form
Based on 2,486 reviews