December means warm summer weather in the Southern Hemisphere, which also coincides with some of the best safari, beach and holiday times. Africa is home to some incredible places to visit and as most of Africa's top destinations book out over a year in advance, such is the huge demand and limited availability of African travel, booking well in advance is always a good idea. So if your travel bug is itching – here are our top 5 destinations for African travel in December.
1. Sabi Sand, Kruger National Park – South Africa
The pinnacle of South Africa's safari offering, this private reserve shares an unfenced border with the Kruger National Park and offers the best wildlife experience in Southern Africa. The Sabi Sand Private Game Reserve is famed for its intimate leopard sightings, if these elusive spotted creatures are on your sightings list, there is nowhere else better on earth to witness them in all their glory.
Our favourite property: Londolozi
The Sabi Sand has an embarrassment of award-winning lodges, and you would be hard-pressed to find better anywhere. Among our personal favourites is Londolozi.
Londolozi's name comes from the Zulu meaning "protector of all living things". This reserve truly embraces its namesake's philosophy as one of South Africa's pioneers in long-term nature conservation. Home to the Big 5 and renowned as a predator's paradise, Londolozi allows guests to observe wildlife on bush walks and twice-daily game drives. The different camps and lodges cater for a variety of guests from honeymooners to families. Greet the day with a yoga class in the bush or wade in swimming pools overlooking the landscape beyond. Dine al fresco while the canopy of stars in the night sky twinkles overhead.
2. Volcanoes National Park, Rwanda
Gorilla Trekking is a once in a lifetime opportunity and Volcanoes National Park is the "birthplace" of gorilla trekking. Rwanda is home to over half of the world's mountain gorillas and possibly the best place to view these animals. Planning a trip to Rwanda would normally have to be done between eight & twelve months in advance – due to the high demand and the low volume of trekking permits that are issued. Take advantage of this unique opportunity and book your gorilla trekking now!
Our Favourite property: One&Only Gorilla's Nest
One&Only Gorilla's Nest provides enriching experiences and enchanting escapes; immersed in raw, Rwandan beauty that awakes a wild spirit of adventure. An intimate collection of free-standing forest lodges and spacious suites sit suspended over sprawling, fragrant gardens – enticing sleepy explorers. Attractive amenities range from inviting fireplaces, viewing decks, al fresco showers and standalone baths; to secluded gardens, large lounges, private catering kitchens, personal chefs and even a butler! Breathe easy as you enjoy a seamless connection with the natural world from your own secluded sanctuary. Amongst the swaying eucalyptus trees, framed by atmospheric volcanic vistas – you will find that the One&Only Gorilla's Nest is more than just a place to sleep.
3. Cape Town, South Africa
Among the very best places for African travel in December is Cape Town. This magical destination is the playground of leisure-lovers, adventurer seekers and jetsetters alike. Famous for its flat-topped mountains, white sandy beaches, bountiful vineyards, waddling penguins and bustling waterfront, it's not hard to see why the Mother City is consistently ranked among the world's best cities. There is so much to see and do in Cape Town that every stay leaves visitors longing to return.
Our favourite property: Camissa House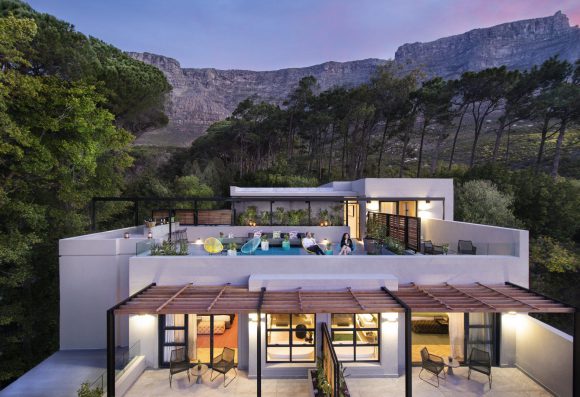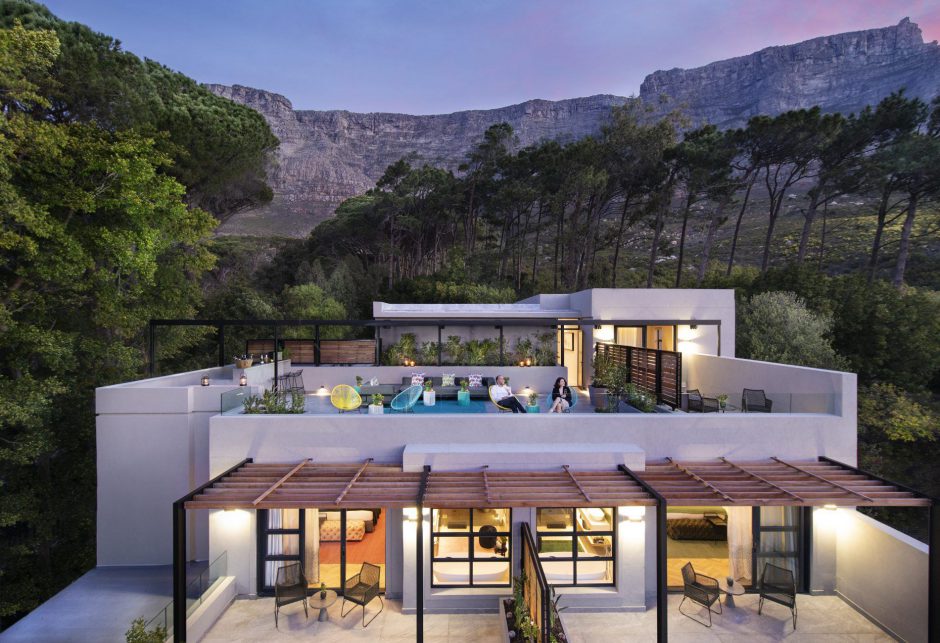 The options are endless, but our favourite is undoubtedly Camissa House. Winner of South Africa's Leading Design Hotel in the 2021 World Travel Awards, it boasts possibly the most captivating views of Table Mountain, the Atlantic Ocean and the city of Cape Town.
A truly extraordinary luxury boutique hotel, Camissa House celebrates the true essence of Cape Town, the unique floral diversity and natural beauty it holds. Nothing has been overlooked in designing this modern masterpiece. Camissa House has eight rooms with a maximum of 16 guests, so you can be assured an intimate, secluded affair. Guests have a dedicated butler, tour desk, pool, roof-top bar and opulent high tea – you could be forgiven for not wanting to leave the hotel at all. The true spectacle, however, is found in Cape Town's lauded diversions; majestic Table Mountain at your doorstep, the idyllic beaches, award-winning restaurants and scenic Winelands Region.
4. Zanzibar, Tanzania
The superb beaches and warm, tranquil waters of Zanzibar await you. With a range of luxury seaside resorts to choose from, it creates the ultimate island getaway. Made up of a chain of islands off the coast of Tanzania this is a tropical paradise. Centuries ago, the island was an important area for the spice trade, before falling under the rule of Arab sultans who reigned over the islands for several years, integrating with the local Swahili. This mix of cultures creates a fascinating essence that you can feel in the cuisine, architecture and local customs.
Stone Town, littered with Indo-Arabian architecture, is a UNESCO World Heritage Site. When not languidly lounging on the island's impeccable beachfront, visitors can wander the narrow labyrinth of streets that make up the town. Or venture to the Forodhani Gardens' night market on the waterfront across from the House of Wonders, and taste the local street food.
Our favourite property: Zanzibar White Sand Luxury Villas & Spa
Situated on Paje Beach on the Zanzibar's east coast lies Zanzibar White Sand Luxury Villas & Spa. Unwind in the warm Indian Ocean waters and walk along pristine beaches that run along the length of the resort.
Nature abounds, both above and below the waves, in lush forests and vibrant coral reefs. Choose to snorkel, kite surf or swim in the waves. The hotel's luxury facilities include spa treatments, a swimming pool and a children's playground.
5. Tswalu Kalahari, South Africa
Tucked away in the northern reaches of South Africa, Tswalu Kalahari offers a safari experience unmatched anywhere in the world. With clear blue skies, golden and crimson sunsets, green grass and intense ruby dunes, a trip to Tswalu in December is what dreams are made of. All bookings for December will receive their own private guide and safari vehicle. If you are dreaming of an exclusive & intimate safari experience, nothing comes close to Tswalu. The diversity of wildlife on offer at this private reserve is something you won't find at other parks. Here you can find the black-maned Kalahari lions, meerkats, Cape foxes and pangolin as well as other traditional safari animals.
Our favourite property: Tswalu Motse Lodge
Tswalu Motse Lodge is an oasis surrounded by vast open spaces and red desert soil. Guests spend days searching for the wildlife that inhabits the reserve, including lesser-known species such as the snow wolf, pangolin and aardvark, which are regular visitors.
Tswalu Motse accommodates guests in nine 'Legaes', which is a Tswana word meaning "small house". Built from stone, red sand clay and thatch, each « Legae » boasts an en-suite bathroom, an open fire, a private terrace with stunning views of the Kalahari.
Enjoy African travel  in December with Rhino Africa
There is no better time to travel in Africa than now. And enjoying African travel in December is the perfect way to explore some of the world's most remote and beautiful places. Our travel experts are on hand to make your safari dreams a reality, contact them today to start planning.
If you liked this blog, you might also like:
X
Plan your future African Safari today
Let's explore Africa
Opens our enquiry form
Based on 3000+ reviews