Summer is for soaking up the warm sun, with exquisite views of vineyard-filled mountain ranges and the best part – having a crisp glass of the most delicious South African wine in hand. They say that wine is bottled poetry, and when sitting in the Cape Winelands with a glass intert-wine-d between your fingers, you'll be sure to agree. Tasting wine is no longer just for the professionals, after all, taste buds, a brain and this guide are all you really need. So, less wine-ing and more smiling this summer with this wine tasting guide:
Step 1: Without the perfect setting, you'll be guessing
You can't truly experience wine in a room flooded with distracting smells and fragrances. In order to get a true sense of a particular wine it is important that there are no other factors influencing the taste. Therefore, your wine tasting setting needs to ensure that your opinion is not altered and that a fair tasting is had. A tasting venue should be:
Well-lit to ensure you can see the correct colouring of the wine.
Odour-free to ensure that you are able to smell the wine in its entirety.
Clean tasting glasses should be provided after different wines.
Palette cleanses can be used between different wines (eg. water biscuits)
Step 2: Get clearance on the appearance
This step involves using your eyes to check the appearance of the wine.  A glass is normally filled with about 60ml of wine when tasting, allowing you to tilt the glass away from you. Whilst tilted, look at the wine against a pale/white background and decide upon the appearance of the wine with the following categories:
Clarity: Does the wine appear clear or full?
Intensity: Would you describe the wine as pale, deep or an in-between?
Colour:  Is it pale, amber, purple (a young wine), ruby, garnet red-brown (older wood-aged) and so on.
Wine Legs/Tears (droplets on the inside of the wine glass): A higher density of droplets indicate high alcohol wines, and tears that flow back slowly into the glass indicate a sweeter wine.
Note: Sediment at the bottom of the wine is not a wine-producer's fault – the wine is probably old.
Step 3: Use your nose to smell. Get to know the wine well
It's now time to look like a true professional by swirling and sniffing the wine.  Hold the base of the glass and rotate it in circular motions (releasing the aromas) before breathing in its fragrance. With time and practice, smelling wine can indicate the types of grapes and from which area they are from, so, start practicing already! After smelling the wine, make a judgment on the:
Condition: Does it have a bad smell? A clean smell? Does it have off odours?
Intensity: Light, medium or pronounced. Does the smell jump at you or not?
Aroma: Can you pick up traces of fruit or spice?
Step 4: Use your taste buds, to test the wine floods
Now for the best part, actually sipping on the delicious wine. The trick when beginning to taste wine is to start by tasting single grape types so as to get familiar with their individual traits. Take small sips, covering the tongue, spit the wine out (or, if you're like me, you'll ignore that step) and take a breathe in. Judge the wine on the following categories:
Sweetness: Is the wine dry, off-dry, medium or sweet?
Body: How would you describe the body of the wine? Light, medium or full?
Acidity: Does the wine have high acidity and make your mouth water? Or is it zesty, refreshing or dull?
Flavour: Does the wine have traces of fruit, spice, floral, vegetable or wood?
Length: Does the taste of the wine linger or does it have a short finish? A long and complex finish is an indication of high quality wines.
Step 5: Make a conclusion on the diffusion, the illusion and the infusion
It's now time to give your wine an overall review. Combine your remarks and evaluations in steps 1 to 4, drawing conclusions on the appearance, smell and taste to evaluate whether the wine is one of:
Quality: The wine has a good balance (no part dominates or over powers), a long finish and has suitable complexity (the amount of flavours and aromas) and intensity.
Scoring:
A score out of 20 is generally given to wines, with points from each step making up the grand total. A maximum of three points is assigned to the appearance, seven to the quality on the nose and ten points for the taste quality. Wines can receive the following scores based on the ratings:
Below 8/20: Poor
11 and 12/20: Fair, don't believe people when they tell you it's good. (2 stars)
13 and 14/20: Moderate, a possible wine to serve to family members. (3 stars)
15 and 16/20: Good, you could safely order this wine at a restaurant. (4 stars)
17 to 20/20: Excellence, this wine is just for you to enjoy. (5 stars)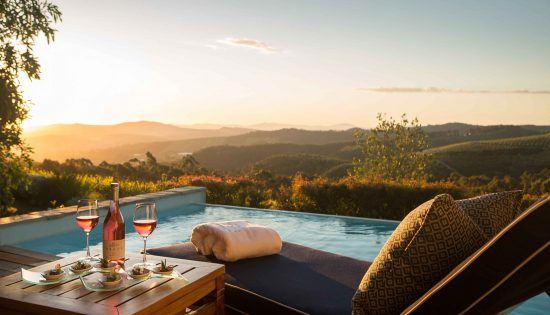 Wine Faults (8/20 or less):
Cork taint: the bottle wasn't opened properly/the cork is old and difficult to remove/corks with fungus trichloranisole TCA.
Oxidation: the wine is fruitless and tastes like sherry because it has been in contact with too much oxygen.
Cooked wine: the wine could have been stored in temperatures that are too high, resulting in wine lacking in body.
There's no better place than the Cape Winelands in South Africa to taste crisp and delicious wines this Summer!