"They, who have suffered so much at the hands of humans, never lose the ability to forgive, even though, being elephants, they will never be able to forget."
― Daphne Sheldrick, Love, Life and Elephants: An African Love Story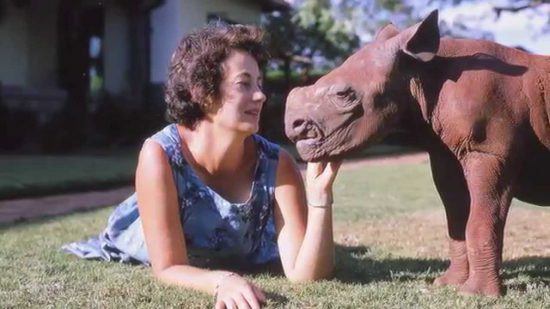 There is nothing more important to elephants than family, and when they lose a loved one, they've often been observed returning to their place of death, after years of absence, gently caressing the bones with their trunks; standing in a circle and grumbling softly in remembrance. They are highly sentient beings, and they undoubtedly feel grief keenly.
Last week, the elephants of Africa lost their matriarch.
For the first time in 60 years, Dame Daphne Sheldrick won't be at the centre of their herd, and these wonderful creatures will be mourning as deeply as Dame Daphne's family, and the conservation world as a whole.
My earliest memory of coming across Dame Daphne's work, was at the age of around eight when I had fervently hoped that I would be given a baby elephant for my birthday. Zimbabwe was in the midst of a crippling drought, and many families throughout the country had taken on orphaned elephants, rhinos, hippo, and anything else in between.
This was obviously a pretty far-fetched hope, but one that seemed incredibly plausible, and probable, in my young mind. I didn't get an elephant for my birthday, thankfully. What I did receive was a book titled An Elephant Called Eleanor, by Daphne Sheldrick. While the book was a bit advanced for me, I studiously ploughed my way through it – more than once. I see it as the start of my love affair with elephants, and conservation in general. It created in me a deep, burning desire to be a part of the solution to Africa's poaching problems.
That is what was so special about Dame Daphne, she lit a fire in people; she was so intricately connected to Africa's animals that she was able to draw others in. She showed little girls like me, that there was always something to be done; that we were the future custodians of Africa's most precious resource. We had to be ready to take this responsibility with hands that were gentle and caring, but hands that also refused to flinch when faced with conflict. The path was never going to be the easiest one, and we had to be ready to fight for Africa's future.
Born in Kenya in 1934, Dame Daphne Sheldrick dedicated over six decades of her life to the protection of Africa's wildlife. She worked alongside her husband David for close to 30 years in Kenya's largest national park, Tsavo East, where he was the founding warden. Together they toiled tirelessly in the African bush to create a protected space for the country's largest elephant population.
On David's passing in 1977, Daphne founded The David Sheldrick Wildlife Trust (DSWT), and for the next 40 years, she changed the world of conservation irrevocably. She was the first person to ever hand-rear a milk-dependent newborn elephant, and rhino, with a milk formula that took 23 years to successfully develop. This breakthrough milk formula has seen more than 230 orphaned elephants saved in Kenya, as well as countless more across the globe.
Throughout her time at DSWT, Daphne lived alongside her elephants; sleeping beside the most vulnerable orphans and learning about their incredible capacity to love, grieve, heal, and support their 'family' units. She was constantly in awe of their intelligence, and how they experienced heartbreak akin to humans, but were thankfully kinder and more likely to forgive than we are.
Daphne's life's work has featured in numerous television programmes, including the BBC's Elephant Diaries, 60 minutes – The Orphanage, For the Love of Elephants and The Elephant Who Found a Mom. She was also in the memorable documentaries Gardeners of Eden and IMAX's Born to Be Wild. Her own writing, which I believe is the most poignant of the lot, have been published into four books, and her own autobiography Life, Love and Elephants: An African Love Story.
Her accolades are simply too many to go through, but she was decorated by Queen Elizabeth Ⅱ in 1989 with an MBE, for her absolute dedication to conservation in Kenya. In the 2006 New Year's Honours List, Queen Elizabeth II appointed Dr Daphne Sheldrick to Dame Commander of the Most Excellent Order of the British Empire, the country's first knighthood since its 1963 independence. She was awarded an Honorary Doctorate in Veterinary Medicine by Glasgow University in 2000 and was further honoured in 2001 with a Moran of the Burning Spear (MBS) from the Kenyan government.
It's not awards, however, that Dame Daphne will want to be remembered for. It's her vision and her legacy, the unbridled desire to sacrifice and fight for a future in Africa, where all her children look after one another with kindness and compassion. She leaves behind two daughters, four grandchildren, hundreds of animal offspring, and a family of conservationists all over the world.
Daphne's loss is going to be keenly felt, and she'll be missed by the millions of people she inspired throughout the globe.
Her work will be continued by all of those that she moved to make a difference; she is in every whispered breeze in Tsavo's trees, in the dry grass of Kenya's plains, she is in the journey of Africa's mighty rivers, and she is in the heart and memory of every animal she worked so hard to save.
Luckily, elephants never forget.
"Daphne drew the most comfort from in her final weeks, knowing that her memory and work would continue with the tiny steps of baby elephants for generations to come," Angela Sheldrick, Daughter of Dame Daphne and CEO (Matriarch) of DSWT
Rhino Africa sends our thoughts and condolences to Dame Daphne's family, The David Sheldrick Wildlife Trust, and all of those mourning her loss.