The last three months have been a brutal test of courage, resourcefulness and endurance. They have also been incredible examples of empathy, care and friendship as we have witnessed unprecedented kindness in our "Food for Africa" Fundraising Campaign. Let me start by thanking all our guests, friends, partners and Rhinos for your continued support and encouragement!
Tourism enriches all our lives, and while we can't travel (for now), we continue to look to tourism as the game-changing force that uplifts Africa's communities and protects her wildlife. The loss of tourism income has had devastating consequences for rural communities dependent on tourism across the entire sub-saharan Africa. Through the shared humanity of this Covid-19 crisis we have been overwhelmed by your empathy, care and support.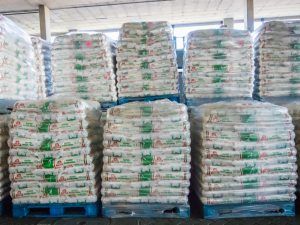 Where we currently stand
Over the past 5 weeks we have raised over R 276 000 (of our target of R 320 000) and been able to dispatch over 6000 bags or 71 tonnes of maize by the Good Work and Click Foundation across South Africa. This maize comes as a welcome relief with the continued closure of government feeding programmes as we approach 132 days of lockdown, further increasing food scarcity.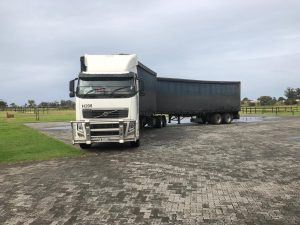 Through our partners Matumi and the One People Fund we have been able to ensure fast and efficient distribution of this much needed relief. As the crisis intensifies, despite South Africa being Travel Ready, as the opening of international borders remains uncertain, we continue to rely on the generosity of our guests, partners and Rhinos to help us feed tummies while also in turn feeds young minds.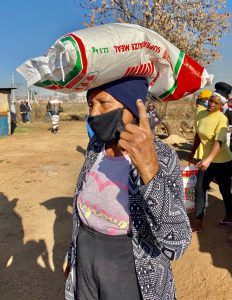 Sadly, South Africa is a deeply challenging place in which to live and work right now. The vast majority of our fellow citizens are poor, have little education and live in badly serviced communities. The only way to be motivated is to be empowered with fact-based reasons; and the notion that what we do everyday, makes a real difference to thousands of lives. Our Rhinos know that we can give back by simply showing up everyday, doing what we do best, bringing guests to African soil!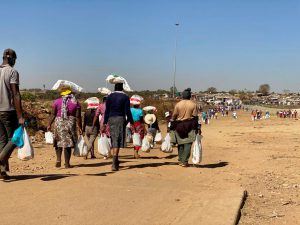 In today's society being born in poverty, remaining in poverty and passing poverty on to one's children seems to be inevitable with only one way out – education! Poor education is a severe handbrake on our country's growth and why we at Rhino Africa continue to redouble our efforts to support organisations like GWF and Click. These remarkable organisations, and humans within them, provide us all with the fact-based optimism that drives our motivation, purpose and our growth!
"Our humanity is bound up in yours, for we can only be human together." 
– Desmond Tutu
Thank you for the support. Let's continue to feed those young minds and tummies together!
About Rhino Africa
Rhino Africa is Africa's leading safari company that specialises in tailor-made luxury travel in Southern and East Africa, including the Indian Ocean Islands.
Based in Cape Town, we use our local expert knowledge to create once-in-a-lifetime journeys for 16,000 guests every year. Success within the safari industry has granted us the great privilege of supporting the causes we are passionate about. This is more than a passion – it is a burning, all-encompassing desire to ensure that we do whatever we can to support the special, on-the-ground movements that underpin conservation and rural education in Africa.
We leverage our talent at tailor-made holidays to join forces with inspired groups and individuals in Africa, whose talents lie in protecting endangered species and empowering rural education, to achieve their dreams. 
Basically what it comes down to: Rhino Africa helps the dreams we steadfastly believe in, come true. Whether that's bucket list African holidays, helping a child reach his/her true potential or protecting wildlife, we're committed to uplifting this continent through Travel. Tourism provides accessible employment opportunities, geographic diversification and increased foreign currency receipts, better than any other industry. That is why we believe travel has the potential to change the world – and now more than ever, our planet needs the kind of travel that gives back!
About Good Work Foundation
GWF believes in a future where rural African people are confident participants of the fourth industrial revolution. They are agents of change seamlessly plugged in to local communities and global networks. Together with those who are reimagining education with us, GWF will continue to create innovative digital learning campuses, responsive programmes and demand-led social enterprises, all working together to create an accessible, opportunity-packed world for our next generation of rural Africans.
Our goal is for each regional cluster of campuses to deliver wonder-filled 21st century learning opportunities to rural and marginalised communities. Each cluster will be 80% self-funded, 100% community-powered and 75% women-led. The world is changing fast and the future will not exclude us. In fact, the future needs us.
About Click Foundation
78% of Grade 4 learners in South Africa can't read for meaning. Weak student performance in literacy and numeracy in Foundation Phase (Grades 1-3) constitutes one of the major factors leading to poor learning outcomes in later grades.
The Click Foundation deploys online English literacy programmes in under-privileged primary schools across South Africa. The programmes offer young learners the opportunity to work at their own pace through fun and enjoyable activities, navigating their learning journey by means of technology. In doing so, the Click Foundation is not only addressing the literacy crisis but also equipping these young learners with the technological skills required for future success.
X
Plan your future African Safari today
Let's explore Africa
Opens our enquiry form
Based on 3000+ reviews