My name is Samantha, I am a consultant here at Rhino and have been with the company over 12 years now (and counting) and what a ride it's been. I've been able to share so many incredible memories and experiences whilst working for this special company, often on educationals. Even though my studies should have led me to a career in numbers of some kind, the travel bug bit and bit hard. After my first overseas trip back in 1992 to sing with my provincial choir throughout the cathedrals in Italy (that's a story for another day) and being able to live and work in both London and Dubai at stages in my life, as well as enjoy travel to Thailand, the States and more throughout the years, it was kismet that I would inevitably land up working in travel "when I grew up"!
"The most beautiful things in life are not things. They are people and places and memories and pictures. They are feelings and moments and smiles and laughter."
– Bernard Meltzer
Africa is in my Soul
And boy, have I travelled throughout Africa within these past 12 years. Zimbabwe, Botswana, Zambia, Mozambique, Tanzania, South Africa et al. Not only is it what I do all day, the planning of amazing travel adventures for my special clients to this unique continent I am fortunate to call home, but it's what we get to do and experience which is the most marvellous perk of the job.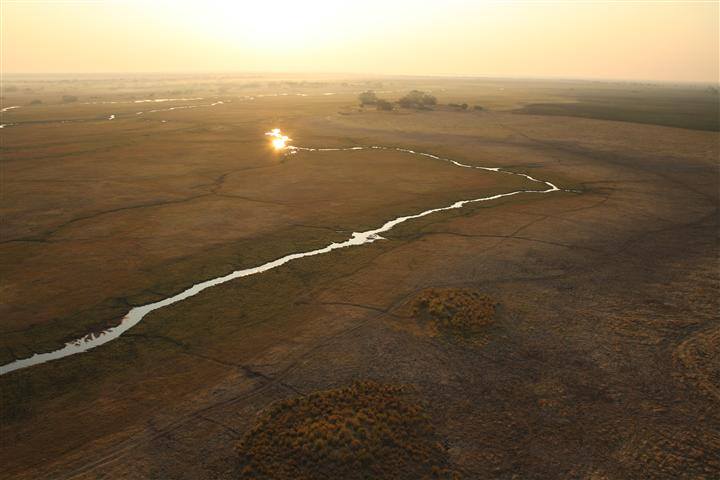 Rhino Africa is held in very high esteem in the industry due to the mere fact that we as consultants get to travel throughout Africa, a lot. We regularly stay at the hotels and lodges we sell. We regularly travel on the little planes we book – much to the chagrin of some of my dear colleagues who are not great flyers. We partake in all the activities on offer at said property and as such THAT is what affords us the opportunity to declare ourselves "experts in our field".
How we become Experts on African Travel
An "educational" or "familiarisation trip" is what this sort of fact finding/experiential trip is called in our world and I am sure you will agree, is so aptly named. We often plan our own educational as a company and hand-select the destinations and properties we wish to check in on and see any recent upgrades or that are new on the scene. We typically travel with a couple of our colleagues so that we get the opportunity to experience the elements exactly as our clients would.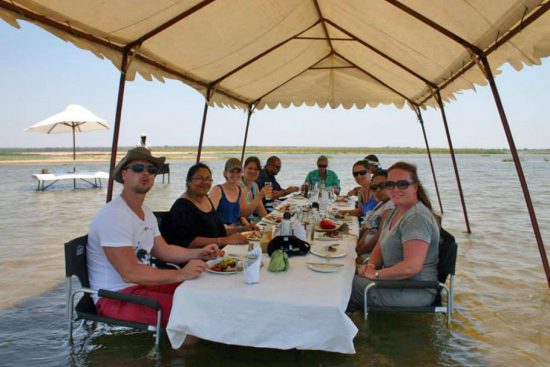 The other format, nicknamed a "fam trip" would be a trip planned by a portfolio who has a few properties within their collection. They would invite a consultant or two from Rhino Africa and we would do a set journey with others in the trade from various companies like ourselves, experiencing their offerings.
Why I love Educationals and Familiarisation trips
Both are so important, not just to study the properties, but to learn about one another. We all typically work so hard, so relish the time together out of the office, away from the day-to-day and are able to form tight bonds with our colleagues or get to befriend others in the sphere, who oftentimes become fast friends, even though we should ultimately be rivals.
It's a valuable experience all round and of course we learn all the ins and outs, the nitty gritty – but generally it's establishing how places make you FEEL, what the people are like on the ground, how genuine is the experience, what stands out and very simply, if it makes your heart sing. I have so many fond memories of such educationals over the years taken with colleagues and industry pals, but I thought I would highlight an example of both types and special experiences enjoyed therein.
My Zambia Educational 
This was one we planned here at Rhino Africa, and I was able to enjoy it with some dear colleagues, my friends. Zambia came with many surprises and lots of laughs and memories that are irreplaceable. Most already know of the Victoria Falls which straddle Zambia and Zimbabwe, but we wanted to go deeper and learn more about the "safari-lands" of the country.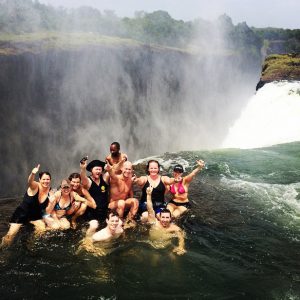 We were able to visit what I feel is the perfect 'trifecta' of safari destinations within this friendly nation namely Kafue, South Luangwa and Lower Zambezi. I say friendly as that's exactly what it was. Anyone we dealt with could not have done more for us and would bend over backwards. Noticeably less polished than perhaps other Southern African countries however with boundless willingness to help, say yes and bring a smile to our faces.
Kafue
At Kafue we were based at the impressive Shumba. I consider this to be "lion central" and can also regale in a funny story about little frogs living in the loos (yes!). But here are the two things which stood out most for me. Firstly, the vast plains with no others around for miles and miles, and secondly, the hot air ballooning. This was a highlight for sure and as a first timer in a balloon, being able to glide over the marsh with hippo below us was truly one for the memory banks and thus an activity that I now do all I can to include when ones visit this 'off the beaten track' paradise. THIS is why we do these trips.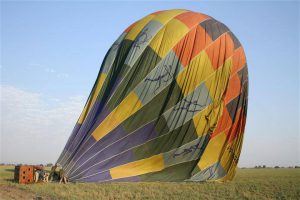 South Luangwa
Next was South Luangwa, a safari walker's heaven where behind the scenes adventures of being on "spider patrol" for my colleague were matched by trepidation whilst bush walking into a pride of lions and a pod of hippo. Each of these experiences is equally as memorable as one of the property "finds" of the trip, the incomparable Chinzombo. Wowzers. This is one I wish was in every safari destination I sold. Truly very special.
We were also thrilled to see products from an ex-Rhino colleague who has moved into their family textile business, represented in the property. Obviously we all had to do an impromptu fashion show for him to show our support and pride for their business. The learning, the laughs and team-building aspects of these trips are always a stand out for me and completely unmatched in any other industry.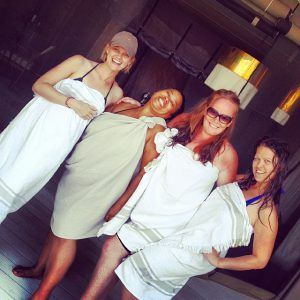 Lower Zambezi
Our final destination was the Lower Zambezi and we found sheer joy in experiencing the exceptional flintstone-esque, exclusive-use property on the banks of the mighty Zambezi. What a special property Chongwe House is for family groups and small parties seeking privacy whilst enjoying some angling or canoeing or game drives. I can also tell you first-hand which is the only lodge that has air-conditioning in this neck of the woods. My hidden gem….
My African Bush Camps Familiarisation Trip
Zimbabwe and Botswana were highlights from a recent familiarization trip I was able to share with my colleague Carl and others friends in our industry. Hosted by the superb African Bush Camps we were able to experience some of their and their partners' remarkable camps. Seriously if nothing else the staff were the standouts on this adventure – throughout. At all their camps. All of us felt the noticeably caring and thorough yet personable service. It was remarkably professional and casual at the same time.
Highlights of this Trip
Somalisa stole the show for me. This is elephant central to the extreme and most wonderfully enjoyed close-up from the camps pool which has been handed over to the pachyderms in lieu of the guests. The ellies win, every time, and you can easily appreciate this when you are close enough to not only see, but feel their true size and might.
Memories that deserve mention from this epic journey, which dutifully become what I discuss with my special guests later down the line once back at the desk: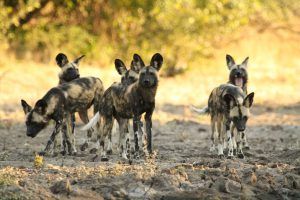 Everyone should visit Africa at least once
As I write this I am nostalgically flooded with memories of the unique times, valuable lessons and multiple versions of 'one of a kind" experiences I am lucky and honoured to have enjoyed whilst being in this position and working for this special company. It brings me immense joy to plan life-changing trips for my valued, and by this stage being a long-timer myself, most often repeat or referral clients. Many of whom enjoyed their "once in a lifetime" trips to Africa with me years ago yet have been back time and time again. Always open to trying something new or visiting firm favourites and being able to share THEIR Africa with loved ones and families throughout the years.
Why travel to Africa?
Probably even more so right now and perhaps especially at times when everything in the world is so unsure and unsettled, one thing I am profoundly certain, and many of my regulars will attest, AFRICA DOES NOT DISAPPOINT. Africa will never let you down. Africa will always impress. Africa will always astound and have you dreaming of a return soon. Who's with me…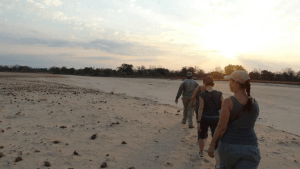 For those needing a little more inspiration, here is My Ultimate Safari Adventure Tour – a great place to start if you are unsure of where your next safari should be.
X
Plan your future African Safari today
Let's explore Africa
Opens our enquiry form
Based on 2,486 reviews