Please note that this blog post was written in July 2020. For the latest travel updates, please visit our Travel with Confidence pages.
It's fair to state that the world is collectively living through the most harrowing crisis of our lifetime. As South Africa heads into its predicted Covid-19 peak over the next two months, we are well aware of the enormous loss of human life at stake, and devastating consequences this will have on every aspect of our lives. Despite this, it's also important to learn from the last four months as the virus swept, and continues to sweep, the globe. Crucially South Africa has worked hard to slow the spread and used this time to prepare as far as possible, at great economic and personal cost, for the inevitable late winter peak. Now is the time to ensure that our citizens and our government use the knowledge we have gained to minimise fear and use this foresight to prepare for the equally inevitable virus decline. This preparation will go a long way to reassure citizens and enable the travel industry to once again welcome guests back to South Africa – see our latest video calling for the reopening of travel.
Understanding the Data we have
By comparing data obtained in the South African Government Projections up until this week (blue graphs) with the actual data observed from the South African National Institute for Communicable Diseases report, we found there is a positive story to tell.
South Africa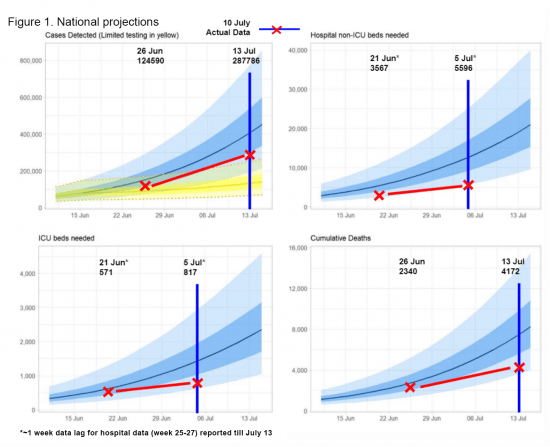 Daily infection rates are on the low-end of the predicted range and 25% below predicted levels;
Death rates are 40% lower than predicted;
Hospitalisation and ICU rates are 50-60% below expected levels; helping with the capacity to cope as infections peak.
Western Cape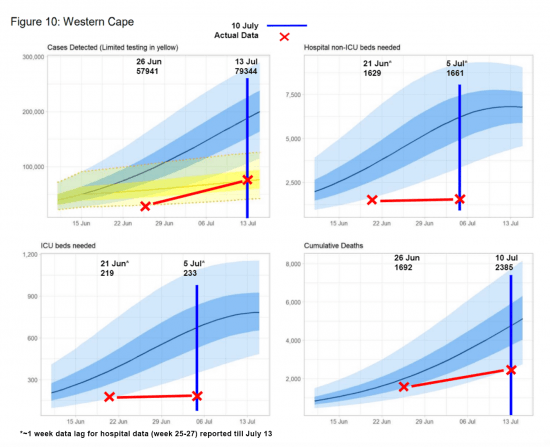 The Western Cape and Cape Town, furthest along the curve, have seen a significantly slower spread and lower death rates compared to the latest prediction model and hospitalisation estimates. ICU rates are currently flat over the 2-week reporting period. Very positive signs.
Gauteng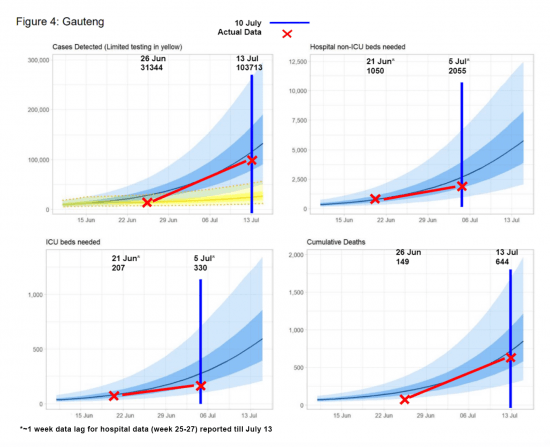 Gauteng, the smallest, most populated region and business capital has now overtaken the Western Cape, as anticipated;
It's more closely following the projection curves for infection and death rates however hospitalisation rates remain on the lower end of the models and good news for peak preparedness;
Other provinces like KwaZulu-Natal and the Eastern Cape (Garden Route) are showing similar patterns;
Sparsely populated provinces have far fewer cases where the likes of the Kruger National Park and Sabi Sand are located. This bodes well for the Tourism sector as we start to look 2-3 months ahead.
Overall, the flattened curve has allowed time for preparation in the private and public sectors including 28,000 hospital beds and 37,000 quarantine beds and PPE stocks as noted in President Ramaphosa's July 13th statement.
Some context: South Africa vs the Rest of the World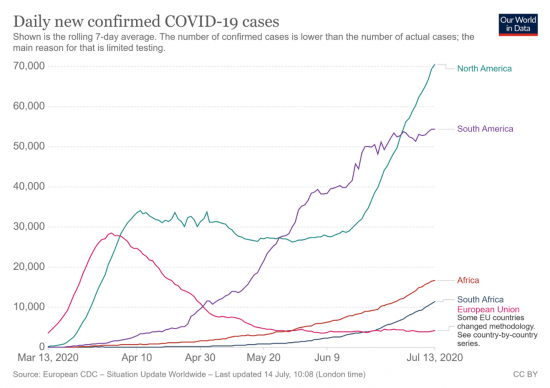 South Africa's aggressive lockdowns and other factors have indeed flattened the curve and allowed resources to be prepared thus far;
Europe has seen effective controls and science-based interventions dramatically improve new case rates after their initially uncontrolled EU peak at the end of March at 28,500 daily cases (7-day average) and currently stable around 4,000 per day;
In North America and South America we have all seen the impact of US and Brazilian strategies currently resulting in 70,000 and 55,000 average daily new cases;
South Africa has increased daily cases to a current rate of 11,000 new cases per day. On a per million people basis this is closer to the US current rate but with far lower morbidity and tracking below projections;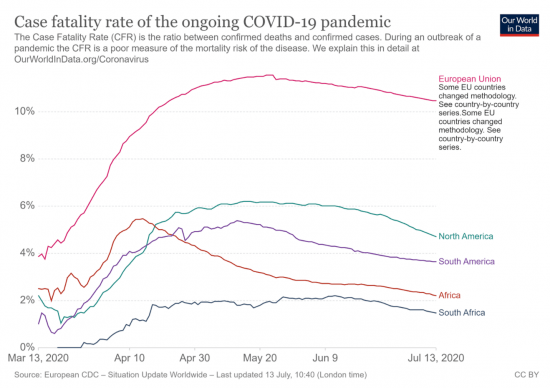 Looking at regional fatality rates, South Africa has maintained a significantly lower and stable mortality rate; some of the lowest in the world. South Africa's hospital capacity also continues to remain strong despite limited resources versus richer countries.
A few interesting considerations
South Africa is a unique country in terms of youthful population demographics, living standards and income per capita and thus has to be considered differently in terms of its Covid situation. That said:
Infection rates have been flattened for the first 3 months since the pandemic was declared through controversial early and aggressive lockdown of the economy to the highest Lockdown Level 5;
Cases and test positivity rates are increasing rapidly now as lockdown measures are eased (currently Level 3) and is currently at similar to per capita daily cases to the USA;
Overall cases and fatality rates are trending below projections and remain low relative to other countries – currently 85% lower than the EU and 60% lower than USA;
Hospitalisation rates remain low and in the earliest hit area of the Western Cape have been stable for some weeks around 1,600 occupied beds;
As we look around the world at the divergence of response it is worth noting that data sharing and collaboration has been widespread and transparent in South Africa via daily NICD and government updates and live data sharing. This allows for an informed and healthy public debate not seen in many countries. This debate continues and the Tourism sector, employing 10+% of the country's workforce, continues to work hard to ensure lives and livelihoods are protected.
Our Founder, David Ryan has recently published on open Letter to the President urging him to take measures to open the tourism sector immediately.
What's next?
As a country South Africa has taken major steps to prepare for the inevitable spike in new cases we are starting to see come through now. While this inevitably leads to dramatic headlines we need to weigh the evidence available to us and ensure we use that understanding to continue to combat the virus today and equally the fear of the that continues to sweep the world.
Equipped with these tools and the knowledge gained from those countries ahead of South Africa on the curve together with the positive signs discussed above we can continue through the expected peak in the coming weeks without unnecessary panic. This is crucial as we have spent the past few months preparing for this surge, we now need to have thought leaders and policy makers shifting focus to life after the peak and how best to ensure we are ready to reopen as quickly and safely as possible.
As PPE purchases and lockdowns were the necessary key to prepare for the peak, so Covid protocols around travel and work, clear milestones for reopening and clarity from government on border controls will pay massive and necessary dividends as we reopen and get South Africans back to work, and our guests access to some of the most spectacular (and socially distant) safari and wildlife experiences.
Travel will be different, but Travel will be back
As we see the predicted increases in case numbers feeding news headlines over the coming weeks, it is important to appreciate that this too shall pass and travel will indeed return. Rather than a strategy of hope South Africa has taken solid steps to prepare thanks to early sacrifices to flatten the curve. Now as the peak draws nearer, we need to apply that same forward looking approach to ensuring while we meet the demands of the virus on our people today, we are looking ahead to ensure we are as prepared as possible for life and travel to return through smart planning and on the ground experience.
To our current and future guests that are waiting to travel or contemplating their next adventure while stuck at home, we will continue to be just a call away ready to advise and navigate this crisis as we look towards a brighter future already visible on the horizon.
X
Plan your future African Safari today
Let's explore Africa
Opens our enquiry form
Based on 3000+ reviews