Please note that this blog post was written in August 2020. For the latest travel updates, please visit our Travel with Confidence pages.
Positive signs are emerging that South Africa has seen its Covid-19 peak infection period over the last few weeks as cases begin to decline. We see the government easing lockdown restrictions as a result and the first signs of a substantial tourism recovery being possible with leisure travel finally allowed. We have already seen local travel reintroduced: the first step in welcoming back the critical international tourism industry.
Overall, Covid related death rates remain well below 2%, although the peak daily mortality rate is likely still to come. Looking further afield, we see other key African travel destinations roughly two months behind South Africa's curve, with a variety of measured approaches adopted to balance both the economic and societal needs of the population. Here's an overview of the latest Covid-19 developments in South Africa as well as Africa's main safari destinations.
South Africa – July Covid-19 peak?
Nationwide, we see a distinct peak in daily infections in mid July, with significant drops now into August. The Western and Eastern Cape, both hit earliest by the outbreak, have seen consistent declines over the past few weeks despite increase economic activity. Gauteng, tracking behind these two provinces, is also witnessing easing as well. This emerging July peak coincides with the second peak in the USA as can be seen clearly in the graph below.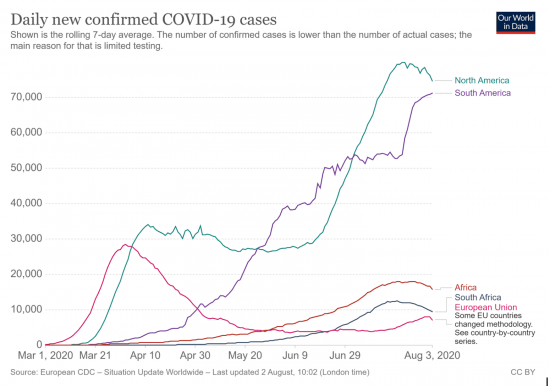 Mortality data has remained very low by international standards at 1.6% (vs 4% in USA and 9.6% in EU). Though this will inevitably move higher in the coming 30 days as the peak infection cases run their course. Hospitalisation rates remain manageable to-date. Hospital admissions peaked at the 5,900 person level two weeks ago countrywide and should start to decline as new infection rates fall.
What is happening in the rest of Sub-Saharan Africa?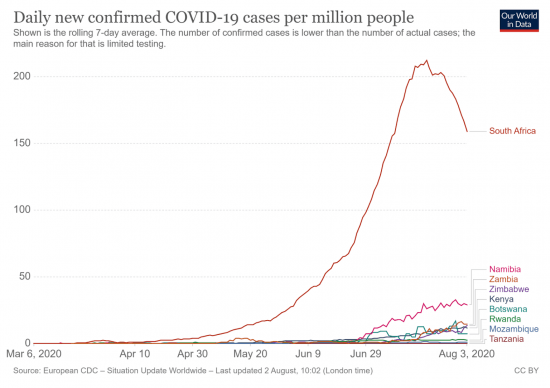 The first major take out is that South Africa is a clear outlier on the African continent, as can be seen from the above graph. Major tourism destinations outside of South Africa have seen daily caseloads increase only in the last month from very low levels before July. This puts popular destinations like Kenya, Namibia, Zimbabwe, Zambia, Botswana, Rwanda and the like behind South Africa by 1-2 months when noting cases per capita, though none showing significant signs of drastic increases currently.
Kenya being a large market has the highest cases per day ~650;

With the remaining countries listed in the graph below under 100 or not reporting consistent data;

On a per capita basis, Namibia is second to South Africa with Kenya moving down the list.
Covid-19 Testing in Africa
Testing is a mixed bag as one might expect in resource limited African countries. Here's an overview: 
South Africa is performing by far the most tests per day (45,000-50,000);

Rwanda and Kenya are testing between 4,000-5,000 tests per day (which on a per capita basis puts Rwanda second only to South Africa in testing);

Rwanda's tiny positive test rates combined with test volume for a small country show Rwanda's infrastructure and governance strength with by far the lowest positive rates <1%; 

South Africa remains at 25-30% levels the last two weeks, consistent with it's peak in Covid-19 cases;

Kenya's increasing positive test rates to ~12% currently and highest absolute case numbers suggests it is furthest along in the pandemics spread and if this data continues we can expect to see a lower peak in 30-60 days.
Government responses across Sub-Saharan Africa were swift in March and early April with blanket lockdowns and have since diverged somewhat as the country specific risks and impacts have become clearer. Current restrictions have been eased in Namibia, Zambia and Botswana; all with low caseloads, and lowest in Tanzania where case data is difficult to find. South Africa, Zimbabwe, Kenya and Uganda currently have the most stringent responses despite some recent easing.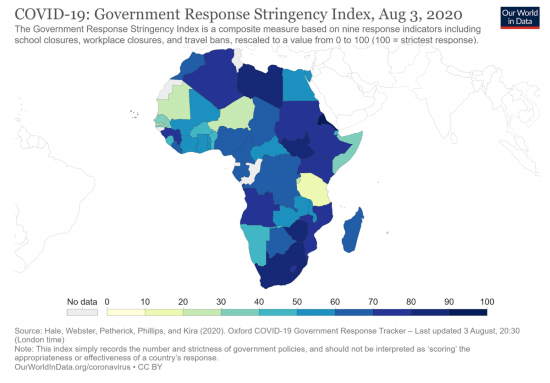 International travel lockdowns follow a similar pattern as overall government responses (see our separate blog post summarising key current border statuses for more information). The standouts are Botswana, with a highly risk-averse approach given its low cases located around the capital Bulawayo, while its neighbour Namibia is taking a more aggressive opening approach. This will be what we continue to watch as new virus progression data and border opening plans become available.  
What does this mean for Africa and Travel? 
Some good news regarding the Covid-19 development in Africa:
South Africa to date has handled this potential peak relatively well with hospitalisations stable and new cases declining – this is allowing some much needed flexibility in economic restrictions into August and good news for the tourism sector into the end of 2020;

Overall, African country demographics are significantly younger than those of developed nations; 

Death rates in all tracked countries are 0.5%-2.5% which is well below EU and USA levels;

Testing is improving but with massive demand in rich countries this will remain an issue for providing reliable data;

Excess death rates as a measure over time will be a more reliable measure of the Covid impact in the medium-term. South Africa is one country where these statistics are readily available and the data gathered by the SA Medical Research Council support the direct testing information currently available; 

Governments throughout Africa will be paying close attention to the South African approach and will tailor their approaches to better balance economic hardship, which are particularly acute in Africa, with health outcomes;

East African countries are moving faster to reopen lockdown measures with well thought out balanced plans to manage the pandemic and the economy.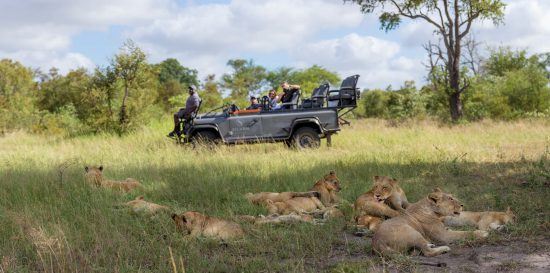 How do I use these insights to plan my next trip?
It is clear that the one bright side of

South Africa's initial 

increase in cases is that it is also the first to show tangible signs of recovery

 in Africa. The reopening of local tourism is a massive step forward and together with a strong industry implementation of safety protocols will chart the path for regional and then international border reopening. While no specific date is set, it seems likely to expect international borders to be open towards the end of this year with a proven safety track record and a solid bet for

travel in 2021;
Kenya

 is further ahead of other East African countries. With improving testing capacity and low mortality rates it may well follow a less severe path than South Africa on a 1-2 month peak delay. Its government response is also ranked high in their effort to flatten the curve so far. Reaping the rewards of this approach they have started to open their borders for tourism in a measured way;

Rwanda

is a clear outlier with good testing capacity, low case numbers and the best in-continent test positivity rates. All evidence of this consistently well managed and resourced destination having a strong handle on the pandemic;

Botswana and Namibia

are both examples of low-density population countries taking both open and conservative approaches respectively to reopening borders. Namibia's recent opening should be a good test-case given the measures in place and inherent isolation of many of its destinations.
While the rules and guidelines will inevitably continue to change, it is good to see that some milestones in the progression of the Coronavirus are being seen, especially in the key South African gateway market. As this landscape continues to change over the coming months and weeks we continue to closely monitor these conditions and ensure we can direct our guests to the best possible experiences as soon as they are available. We remain ready and eager to welcome you once again to experience Africa's magical wildlife and landscapes and by utilising our Travel Experts, you know you can navigate this period of travel uncertainty with confidence. 
X
Plan your future African Safari today
Let's explore Africa
Opens our enquiry form
Based on 3000+ reviews