The vastly contrasting terrain of arid Namibia against the tropical delights of Mauritius provides the dramatic backdrop for this Desserts to Tropics Tour. Namibia is the perfect destination for couples or families who are looking to experience dramatic desert scenery for photography, remote wildlife areas and unique desert-adapted animals. The remoteness of the country, the extreme landscapes and raw beauty makes Namibia a destination like no other. As a complete contrast, add tropical Mauritius for some relaxing beach time with an array of water sports and other activities and you have the perfect travel itinerary for shaking off the lockdown blues.
About me
I am originally from Johannesburg and was very lucky to have grown up in a family that loved to travel and experience different destinations, especially when it came to Southern Africa. I have many fond memories of road trips throughout South Africa, Namibia, Botswana, Zimbabwe and Mozambique and this must be where my love for the African continent began. After school I went on to study Tourism Management and soon my exciting career in the Travel and Tourism Industry began. A few years later after having enough of the "rat race" in Johannesburg I relocated to Cape Town and have never looked back since. It is here where I found the Rhino Africa family and I am proud to be part of such a dynamic and innovative group that shares my passion for showcasing what our amazing continent has to offer with every tailor-made trip we arrange for our guests.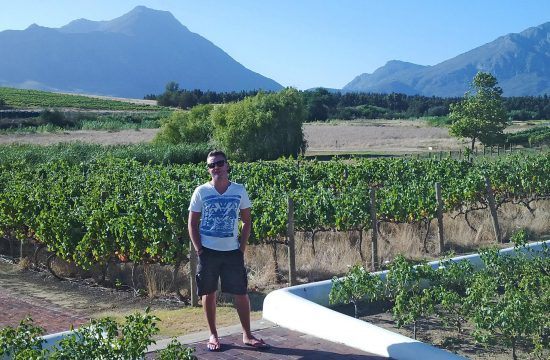 My three Namibian trips
I love Namibia and have been very fortunate to have experienced three very different trips here. The contrast of these three trips I think perfectly highlights how much there is to do and see and the variety of ways to do it.
1. A self-drive trip with Family and friends – Johannesburg to Swakopmund to Cape Town
If the long open road and wide open spaces are what you are looking for then self-drive trip through Namibia is the thing for you. Namibia is considered one of the safest and most scenic self-drive destinations in Africa and being able to see so much of this country in a more relaxed way was amazing. The highlights of my self-drive trip to Namibia was definitely a three hour quad-biking excursion in the dunes outside of Swakopmund and spending New Year's Eve in the Namib desert under the starlit sky.
2. A fly-in Educational Trip with Wilderness
What an amazing experience it was to view the vastness of the desert scenery from the sky during our scheduled charter flights in between the luxurious camps and lodges. The highlight of this trip for me was climbing Dune 45 to watch the sunrise over Sossusvlei and doing a sundowner boat cruise on the Kunene River (which is the border between Namibia and Angola) during our stay at Serra Cafema.
3. A cycle through Damaraland – Challenge4ACause
It was a privilege to be part of the momentous occasion! Cycling in a group of 24 daring "Challengers" from around the world who embarked on this incredible annual adventure – Rhino Africa's Challenge for a Cause. We rode 350km over a period of 6 days through the Damaraland Desert to raise funds for wildlife conservation and rural education in Africa. The highlights of this adventure was staying at camps so remote and deep in the wildest rhino territory that you'll doubt any humans have been there before and then sharing stories of the day's experiences around the campfire in the evening.
My Perfect Deserts to Tropics Itinerary
Based on the places I have been, and on the amazing things I have experiences, I have put together an itinerary which visits all the bucket-list destinations in Namibia. While this itinerary is designed around flying between the destinations, which is a great way to see the vast country of Namibia a lot faster, it is also more expensive. It is possible to do this as a road trip so if time is something you have, or not wanting to be around too many people in airports, rent a 4 x 4 vehicle and navigate the great road network of Namibia. Personally, after 11 nights in the arid remoteness of the desert, a final few days in the tropical paradise of Mauritius feels like heaven and is the perfect way to finish off this African adventure.
Two nights in Sossusvlei
This really lived up to the idea I had in my mind of this destination. The red sand dunes, blue skies and vast open landscapes are a photographer's dream. While descending Dune 45 (Big Daddy) into Deadvlei, I felt like I was arriving onto a set of an eerie movie (Fun fact: scenes of the Jennifer Lopez movie The Cell were filmed here).
Where you should stay: Little Kulala or Sossusvlei Desert Lodge
Two nights in Damaraland
Damaraland is such a unique wildlife destination, there is no place in the world like it. The game drives here were unlike anything I have ever experienced and it is difficult to imagine how some animals like rhino, elephant and lions manage to survive in these desolate desert environments.
Where you should stay: Damaraland Camp
Three nights at the Skeleton Coast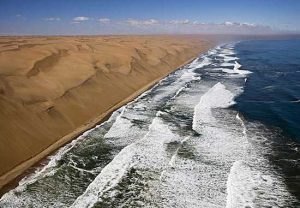 If you want to experience one of the most remote, unspoilt and unique natural wonders of the Atlantic Coast, this is where you should go. This will be one of the highlights of any Namibia adventure and is utterly breathtaking. Excursions to ancient shipwrecks and quad-biking across the dunes are out of this world and the remoteness of the area is incredible!
Where you should stay: Shipwreck Lodge
Three nights at Etosha National Park
My favourite memory of Etosha and more specifically staying at Ongava Lodge was having dinner outside on the deck and watching a big herd of Elephants drinking from the waterhole in front of the lodge.
Where you should stay: Ongava Lodge or Onguma Tented Camp
One night in Windhoek
An overnight is required for you to catch your connecting flight to Mauritius. Windhoek is a lively city and a fun experience is dinner at Joe's Beerhouse to sample the local cuisine and to get a feel for the local Namibian culture.
Five nights in Mauritius
Mauritius is the perfect destination for some much needed R&R. For me the highlights were swimming in the warm Indian Ocean, snorkelling along the reef and sipping on probably the best Pina Colada I have ever had watching the glorious sun set over the Indian Ocean.
Why I love what I do
Connecting with guests to make their travel dreams a reality with the help of our fantastic partners is the reason why I love what I do. There is nothing more satisfying than receiving feedback from guests when they return home and reading about how much they enjoyed their experience. One of my biggest reward is planning return trips for guests and sharing the excitement of planning a trip that would be different (or similar in some cases) to what they had loved so much on their previous holiday.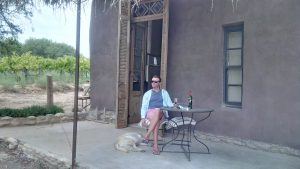 Why travel with Rhino Africa?
When booking with Rhino Africa you can be assured that you are working with leaders in the inbound tourism industry with over 16 years of experience as African specialists and consultants with the best knowledge of Southern Africa, East Africa and the Indian Ocean Islands. Guests are guaranteed personal attention from the moment of sending their initial enquiry until the moment they return from their African adventure. Everything is tailor-made and every care is taken to guarantee the most magical trip to Africa.
The benefits of booking a trip with Rhino Africa
As one of the biggest tour operators to Southern and East Africa we have very strong relationships with most properties and suppliers. We can therefore offer our guests the best possible price guarantee when booking a trip;

We are here on the ground in real time if you need any assistance during your trip;

We believe in travelling with a purpose and are therefore part of multiple conservation and community upliftment projects such as, GWF (Good Work Foundation), Khumbulani Day Care Centre, Wildlife Act, Challange4ACause & Save the Rhino Trust.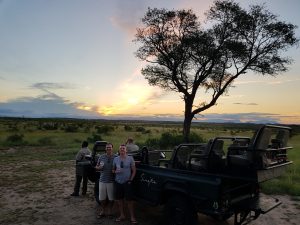 After 16 years in the tour operating business, I think back on what an amazing journey it has been and how grateful I am for the experiences I've had so far. From game viewing on a mokoro (local dugout canoe) in the Okavango Delta (Botswana), doing Challange4ACause cycle trip through Damaraland (Namibia) to sipping cocktails on the sandy beaches of Mauritius. They have all been incredible and there is still so much to do!
Even though we are still living in uncertain times with the Covid-19 pandemic, there has never been a better time to start planning your African adventure with Rhino Africa. We updated our terms and conditions giving guests the flexibility to cancel and receive 100% of their deposit payment back if they had to cancel up to 60 days prior to their travel date due to Covid-19 not making their trip possible. This updated policy is valid for any new bookings made between now to 31 Oct 2020 for travel from March 2021 onwards.
The Rhino Team is ready to welcome you to Africa! Start your adventure now.