September has been such an exciting month! With Silvan Safari having been closed during lockdown, I am thrilled to once again be back in the bush, taking guests out and getting back to business. One thing my hiatus from the bush has taught me is to fully appreciate every moment and allow each guest to fully connect with the magic of Silvan and the incredible wildlife we have here. Initially we were worried that the animals would react differently towards us and the safari vehicles, as we have been gone for so long, but we were very wrong as our first few days back were some of the best game viewing days I have ever had at Silvan.
One of my first goals once back at the lodge was to see the animals we have got to know so well. On top of the list for obvious reasons was Tiyani, our resident leopard, as we had seen (on Silvan's Lodge footage) that she was spending a lot of time around the main lodge during lockdown. We were very keen to see where her cub, Ndzutini, was as none of the footage we had seen featured both of them together.
We were also very eager to get a glimpse of Ndzutini and were hoping that her separation from Tiyani in the past few months was just her moving off on her own and not something more sinister.
We had heard there was a buffalo carcass close to the family suite at the lodge so decided to take the guests to go have a closer look. On arrival, there were only hyena scavenging on the leftovers and after watching for a short while, a herd of elephants moved into the area and making the hyena scatter into different directions.
As we were just about to leave we noticed something strange staring at them through the trees, it was our beloved cub, Ndzutini! However, it was very clear that the cub we had been expecting to find was no more, she was almost unrecognisable as she has doubled in size, lost her baby fluff and is looking like a true predator. We gave her time to slink out of the thicket to investigate the buffalo carcass, after watching her for a moment the rambunctious hyena made a second appearance causing Ndzutini to flea to the trees. The hyenas returned to the carcass and the leopardess made an undetected escape.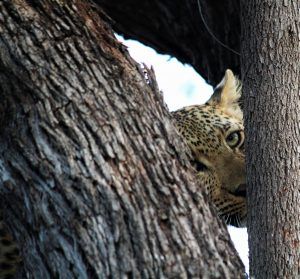 As if to prove how much she has missed us, Ndzutini gave us the most magical sighting just 24hours later. Heading out on a blistering hot day, the start of our real summer heat, we decided to bumble around our concession before heading to a drink stop in the riverbed. We drove down one of my favourite roads just east of the lodge when one of the guests spotted a leopard sitting very close to the vehicle on the right. It took no time in recognising the beautiful Ndzutini once again. She was using the dead thickets to her advantage and luckily the guest managed to spot her, as we didn't even see her.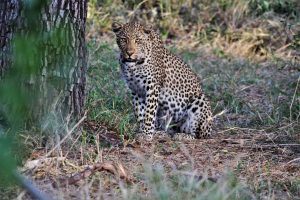 She zigzagged through the trees sniffing at the ground: very busy during one of the hottest days of the past few months. This area is quite thick and as soon as she moved off, we knew our vehicle would struggle to follow her. My tracker, Victor decided he would track for a bit so we could find a better route to manoeuvre the vehicle and hopefully spend more time with her. Whilst winding and weaving through the Gwarri thickets, we stumbled upon a male giraffe whose eyes were locked on Victor's position, making it easy for us to track his progress.
I headed back to the road as Victor indicated that was the direction Ndzutini was heading. We swung around the corner and were surprised to be greeted by the intimidating Hukumuri – the dominant male leopard of our area – and not Ndzutini. The whole vehicle went deathly quiet as we tried to just absorb this moment.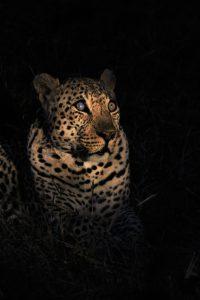 As the wind changed, Ndzutini emerged out of the thicket not too far ahead. The wind changed direction and Hukumuri caught whiff of another leopard's presence and went down into full stalk mode. In a hurry, and keeping both leopards in mind, I snuck off-road to set up the perfect visual to watch Hukumuri and Ndzutini giving each other the ultimate stare off. The sighting needed no words, just watching the behaviour of this father and daughter was incredible. After 20minutes of almost no movement, Ndzutini quietly turned around and snuck off, disappearing instantly with the fading light. As you all can imagine we were late for our sundowners and arrived with a magnificent story and a memory that will last a lifetime!